Nikki Minaj vs Iggy Azalea – both ladies address BET Awards drama
The current situation going on in some heads is that during her BET Awards acceptance speech, Nicky Minaj was subbing/throwing shade at new comer Iggy Azalea. While accepting the award for Best Female Hip Hop Artist, Nicki made reference to writing her own lyrics when she said, when you hear Nicki Spit, Nicki wrote it. After she said that the crowd got a bit noisy because it looked like she was referring to co-nominee Iggy who is also T.I's protege. Le'Sigh. Many figured she was implying that T.I writes for Iggy. Now here is the thing.
Iggy responded to the drama two days ago via her instagram page because people kept trolling her social media for a reaction. She was not having it. She pretty much told them to get busy and stop making up imaginary beef. You can read a screen grab of what she wrote below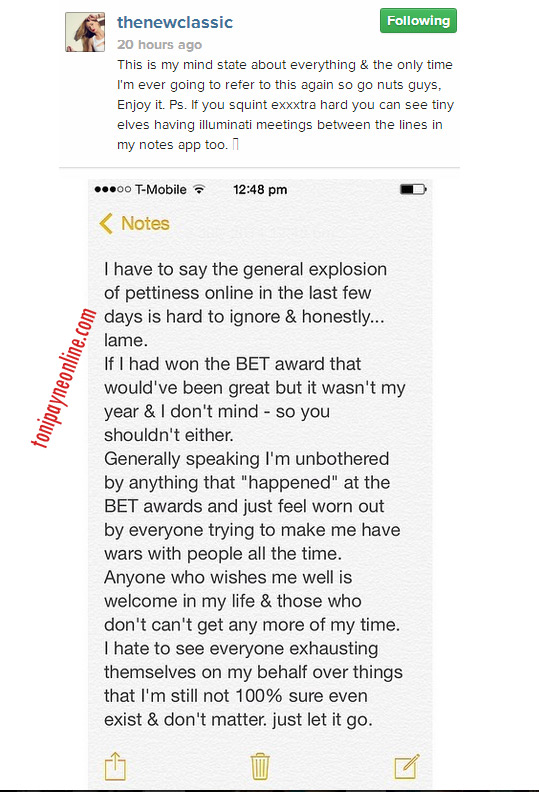 After Iggy addressed the issue Nicki also decided to clear things up. Yesterday, Nicki Minaj went on her twitter page to spit some words regarding the matter. Read it below and also check out screen grabs of her tweets.
Nicki Minaj tweets;
The media puts words in my mouth all the time and this is no different. I will always take a stance on women writing b/c I believe in us!

I believe we're smart enough to write down our own thoughts and perspective, just like the men do. I've been saying this for 5 YEARS

I fell in love with Lauryn Hill b/c I knew she was the author behind those amazingly profound and articulated songs on the MisEducation

I wondered how Lauryn tapped into my brain and wrote an album on love, betrayal, passion, pain, triumph, brokenness…. Did she read minds?

It's the same reason I have a different level of respect for Missy. I know she's a writer and a producer. Women MUST aspire for more.

I've congratulated Iggy on the success of Fancy, publicly. She should be very proud of that. All the women nominated should b proud.

That will never change my desire to motivate women to write. Our voices have to be heard. I hope I inspire up & coming females to do that.
I like how she made reference to Lauren Hill because at that point I was like "uh-huh tell em girl." lol. I am also glad the ladies addressed the issue in a timely way because if they did not, the imaginary beef would have continued as talk of the town, creating unnecessary distractions for both ladies. We have like 100 good male emcees, having 20 female ones isnt a bad idea so the sky is big enought for both. The screen grab of Nicki's tweets up next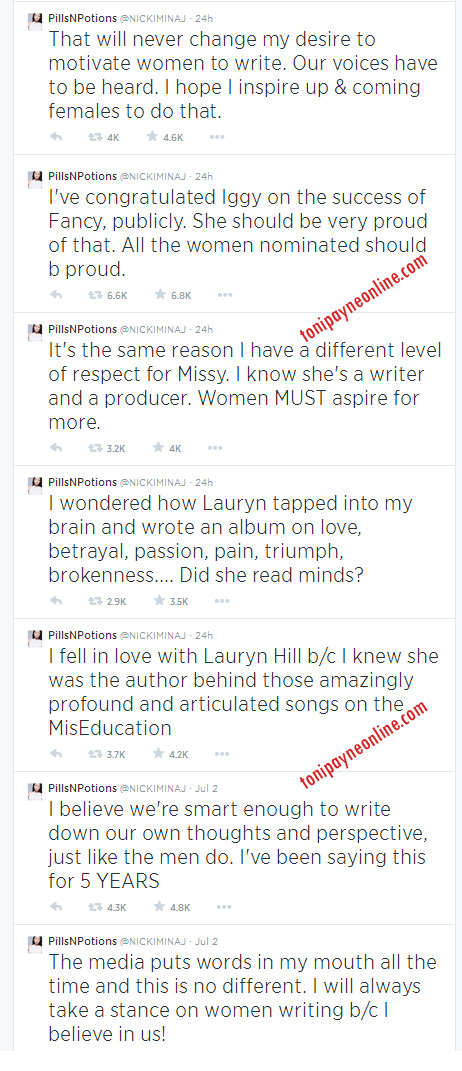 Watch Nicki Minaj's Perform Pills N Potions at the 2014 BET Awards