Kim and Kanye Wedding; Get Married Already!!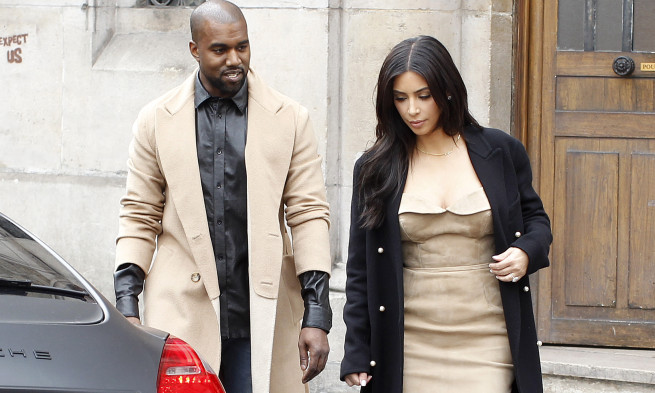 I totally can't wait for this weekend to be over. All we hear is Kim and Kanye wedding and I'm finally like  Kim and Kanye, please get married already. I turn on my TV it is Kim and Kanye's wedding. I turn on my radio, heck, Kimye has even invaded my dreams. I think I dreamt last night that I said her wedding dress was beautiful. Oh my!.. lol. I love how the media will pick one story and hammer it till you get tired of hearing about it like,
"BREAKING NEWS: Kim and Kanye Woke Up". lol. I think all this personal attention is taking too much attention away from Kanye's career. There should be a balance. Hopefully after this weekend things will shift a bit. I can't wait to see her dress though. I also hope she goes for an up-do. She is a beautiful lady so she should flaunt the face on her big day.
I know Kim Kardashian is not a crowd favorite but I personally like her.  I also know a lot of haters will be chatting that the marriage will not work but I think it will. Wendy Williams went in on her talking bout Kanye will not marry her. She ate her words did'nt she. I see Kim Kardashian as that woman who completes Kanye West. They seem like two peas in a pod. He needs his ego nursed and she loves to nurse it. It's like their personalities mesh, a ying yang type situation. Plus they have that super cute baby North, who by the way I am glad they decided to shorten her name to Nori.
So, will I be bringing you my analysis of the wedding? Heck yeah I will. Will I be following it even though I am sorta tired of hearing about it? errrr duhh! I sure will. Why you ask? Well because I may not wish to hear about them every second, but that doesnt take away from the fact that I am curious and want to see how it all goes down. I want to see how beautiful it turns out and did I say I want to see that dress? oh yes I do!.
I hope after the wedding is over, Kanye can go back to being a rapper and not KK's man because he is slowly turning into just that. I hope he can focus less on paps and more on churning out good music. I also hope the media will focus more on the dude's career and less on his personal life.  He has a woman who supports him whole heatedly so they should channel their energy more into putting the music in our faces much more than the wedding was. I wish the couple a Happy Married Life and more cute babies.. Who knows a South West may just be in the works and they can shorten his/her name to Sori. lol.