Karrueche Tran reacts to being called a Notorious Hip Hop Side Chick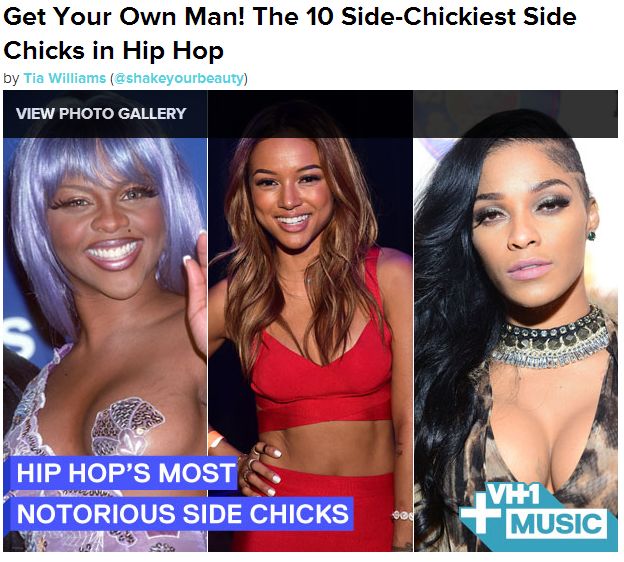 Chris Brown's on again, off again girlfriend Karrueche Tran is not too happy with VH1. They complied a list of who they felt were the top 10 Notorious Side Chicks in Hip Hop and her name was included. According to them, their definition of a side chick is someone who is "lurking in the shadows, waiting to pounce when their dude's wife, fiancé or legit girlfriend isn't looking". Le'sigh. About Karrueche they wrote;
Ahh, this tangled web. Unless you've been living under a boulder, you know that Breezy had an affair with aspiring model (aren't they all) Karrueche while he was with Rihanna. Then, he and Riri broke up, and he wifed up Karrueche — but then promptly cheated on her with Rihanna, and then got back together with Tran. Rinse, repeat. The love triangle has inspired several years of bitter twitter battles between the girls (Rihanna actually referred to the half-Vietnamese stunner as a "rice cake" in her duet with Brown, "Birthday Cake," and then tweeted a pic of a rice cake wearing shades and gold hoop earrings), as well as beef between their two entourages — but Brown can't seem to quit either of them. In a confessional video he released in 2012, he said as much. "Is there such a thing as loving two women?" Yeah, dude, but for your own sanity, just pick one.
After she saw what was written about her she took to Instagram to air her grievances. She posted the picture VH1 used with the following caption
when no one understands you.. they misinterpret you.. judge you.. label you.. this is embarrassing to see, but I can do nothing but laugh because at the end of the day you can say whatever you want about me.. Label me however you please.. Your words do not define who I am. I'm happy with myself.. Flaws..wrong choices..mistakes and all and that's all that matters. I usually don't speak up on shit like this but whatever. I have family that has to see shit like this. I don't even think we're all on the same page as to what a "side chick" really is.. Either way
Other ladies that made the list are; Lil Kim (Notorious BIG), Leyla Ghobadi (Kanye West), Sarah Chapman (P-Diddy) and 6 others. The other ladies are yet to react but one thing I have realized doing Pop Culture analysis is that if they do, it will be via social media. I kinda understand where K-Tran is coming from. It can be very annoying being tagged as what you do not see yourself as. Swerve! So do you think this list is fair and judging from her reaction do you think this will put an even bigger strain on her relationship with Chris Brown?