Floyd Mayweather Dishes on His Side of the Story – TI vs Mayweather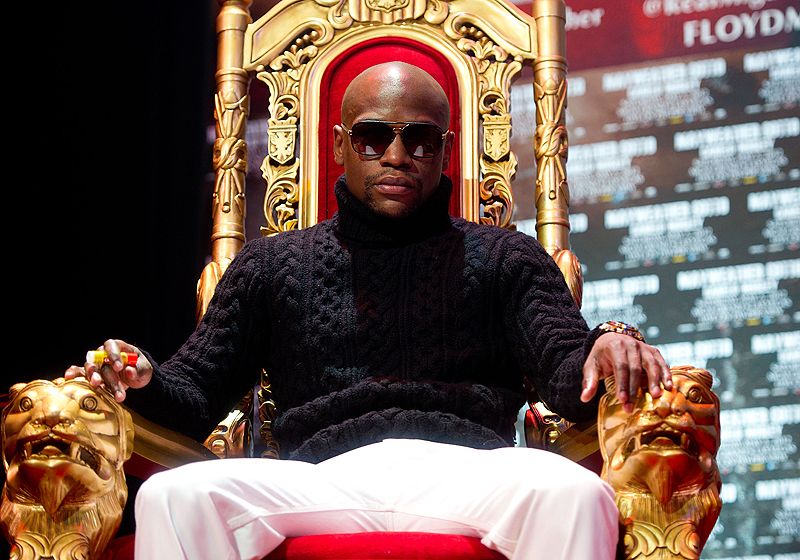 So we have seen the video of the brawl between T.I and Floyd Mayweather. It was pretty heated and when Mayweather told T.I to control his woman, one would think the fight was more about Tiny than anything else. Well, now Mayweather is coming out to say he has nothing to do with Tiny and he apologized to Tiny for saying "Control your B*tch". He talked about how the entire issue started from the night of his fight and Tiny posting a picture on instagram (the problems social media causes lol). He said this wasn't the first confrontation. He pretty much had a lot to say. I listened to what he said and I still think T.I should have confronted Tiny and not Floyd. Oh! and Floyd also hinted that T.I and Tiny are indeed separated. Blame Reality TV. lol. You can read the interview below and judge for yourself.
Part of interview he did with Necole Kane
Floyd on his relationship with Tiny
I been knowing Tiny before T.I. I've never slept with her, I never kissed her, never touched her in no inappropriate way. Her friend Shekinah wanted to come to the [May 4th] fight, she brought Tiny with her. They came to the fight.
After the fight was over Saturday night, Sunday they came over my mother's house. My mother had a big, big party for me. They came over and showed love. They came over to my house all cool, all respect. Hang out with The Money Team, my crew. Everybody was cordial. No disrespecting type. After that, I guess she put a picture up on Instagram of her at the fight so I guess he [T.I.] was feeling some type of way.
On T.I approaching him over the Instagram photo
[T.I] came to me when I was in New York. He stepped to me when I was at the jewelery store like, "Yo, let's go outside and talk." We went outside to talk, but he talked about, basically, "These girls tryna play us against each other." I said, "I don't know what you're talking about. You're talking about your wife?" I never put up a picture of her on Instagram, Twitter or Facebook. I was basically like, "Listen. I'm letting you know I ain't got…me and your wife don't have nothing…if you think so.
So Memorial Day weekend, a lot of people come out to Las Vegas. Tiny and Shekinah was out here. They come to my party last night. They cool. Everything is cool. We was at the strip club. Everything was cordial. We having fun. I throw my daughter [Iyanna] a big [14th] birthday bash today. I'm eating at Fatburger and next thing you know, he walk in talking about we need to talk again. And then I told him, "You need to get the f-ck outta my face. That's what you better do." And then he said, "I ain't talking to all these people so you ain't gotta talk loud." I said, "Listen, don't come to my face with no disrespectful sh-t. Like I told you before, you must've forgot what I did for a living." He said, "You do in the ring, I do it in the streets." I said, "My man, I do it everywhere. You can find out if you want to." Just like that.
ALSO CHECK OUT: Can too much Masturbation cause to a weak erection?

Then a couple of words exchange and people got to pushing and a riot kinda broke out. And then a bunch of chaos and that was basically it. Because, like I said before, he probably does some foolish things, but he ain't no damn fool to swing on me. Like, you must've forgot what I do for a living. He had a totally different look on his face.
On wanting to apologize to Tiny
Only person I wanna apologize towards is Tiny. I said something like "control your b-tch" and I don't want to say that about Tiny. So I do apologize to Tiny because she cool people, man. She cool. She never been disrespectful to me. Shekinah never been disrespectful to me. I'm going to continue to support Tiny and Shekinah cause they're cool people and I don't got nothing against them. So I apologize for that.
I'm not sleeping with that girl [Tiny] and I told that man before. But if I was, talk to her about that, don't talk to me about that. But I'm not going to be disrespectful because I'm not going to sleep with a married woman. Now if she was divorced…I still wouldn't do that because I'm cool with her and we have a real cool and cordial relationship and sometimes sex can mess a good friendship up. And basically, I don't want to f-ck up a good relationship that I have with a person. So whatever I said, "stole your b-tch…take your b-tch" or whatever, I apologize to Tiny and all of her children and T.I.'s children for saying that. I want to apologize to the children and Tiny and Tiny's family for saying what I said.
As far as him swinging on me, I ain't having that. You see me. I'm out all night. He didn't make an appearance so let's see how his face look.
——–
Pheww!.. Can somebody say Drama. Why is T.I paranoid though. If Floyd is saying he has nothing with her why is T.I so heated. I think he should handle his business with Tiny before he gets into trouble. I like T.I a whole lot but I also know, no matter how many fights you have, you can't force anyone to behave or stay.