RHOA Reunion Part 2: About Mama Joyce, Nene's Instagram Post and Cynthia + Clips from the show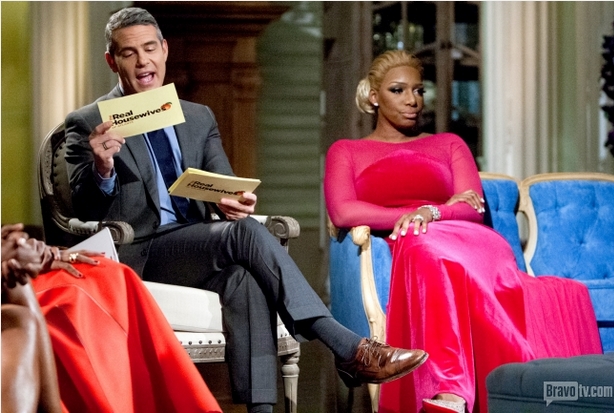 Part two of the Real Housewives of Atlanta Reunion show aired tonight and boy oh boy draaaaaamaaaa!. Now before I get into what happened on the show, I want to touch on Nene and Cynthia's relationship. Right after the show aired Nene took to her Instagram page to address her issue with Cynthia. I found it quite funny because she just said on the reunion show its nobody's business and she would only address Cynthia to Cynthia. Well check out the instagram message below as well as the picture she posted. (Note: She has since deleted the instagram post but I saw it before she deleted it so here goes.)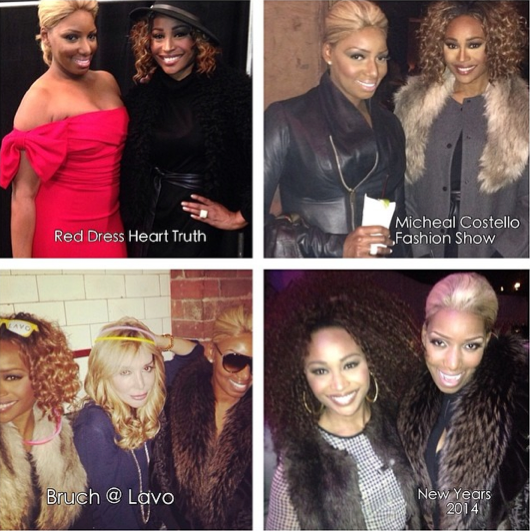 AS HOPEFUL AS I WAS 4 US 2 BE LIFE FRIENDS I'AM NOT SURPRISED OUR FRIENDSHIP HAS ENDED & IT TRULY SADDEN ME! REALITY FRIENDSHIPS NEVER LAST ANYWAY SO HOW FOOLISH WAS I TO THINK I HAD MADE SOMETHING SPECIAL! IT'S AMAZING WHAT PEOPLE R WILLING 2 DO 4 THE LOVE OF MONEY, RELEVANCY & 2 STAY ON TV. WITH CYNTHIA'S SELL OUT PERSONALITY & BLOW WITH THE WIND PERSONA I KNEW IT WAS ONLY A MATTER OF TIME! IT'S ALWAYS THE ONES THAT R THE CLOSEST TO U THAT WILL TURN ON U! I WAS TOTALLY BLINDSIDED BY ALL THIS! YES I SAID PETER WAS ACTING LIKE A BIOTCH N EARLY OCTOBER OF LAST YEAR & I HAVE APOLOGIZED NUMEROUS TIMES 4 IT! CYNTHIA & PETER ACCEPTED MY APOLOGY & WE SIMPLY MOVED ON! YES MOVED ON 2 TALKIN, TRAVELING & TEXTING SEVERAL TIMES A DAY AS WE ALWAYS DID! THE 4 OF US WENT 2 DINNER, CYNTHIA HOSTED MY CURVY GIRLS MODEL CALL @ BAR ONE & PETER WAS THERE 2 HELP OUT! THEY WERE @ THE HOSPITAL WITH ME, THEY SPENT THANKSGIVING @ MY HOME, WE CELEBRATED NEW YEARS EVE TOGETHER N VEGAS, WE WERE HANGING OUT TOGETHER DURING FASHION WEEK! SHE ATTENDED THE RED DRESS HEART TRUTH FASHION SHOW WITH ME & MICHAEL COSTELLO'S FASHION SHOW, WE CELEBRATED HER AN EARLY BIRTHDAY BRUNCH IN NYC @ LAVO! WHEN THE EPISODE AIRED 4 ALL 2 SEE & TWITTER-VERSE HAD THEIR SAY I GUESS SHE CHANGED HER MIND & DECIDED SHE NEEDED 2 BE MAD NEARLY 6 MONTHS LATER!…..I KNOW U TRYIN 2 PULL THE SYMPATHY CARD BUT IF U WERE SUCH A GOOD FRIEND? Y DIDNT U PULL ME ASIDE & TALK 2 ME ABT HOW U WERE FEELING INSTEAD OF DICING OUR FRIENDSHIP UP N FRONT OF A BUNCH OF PEOPLE WHO DONT CARE! SURELY I'AM WORTHY OF THAT CONSIDERING I HAVE CARRIED U ON MY BACK! I CAN ADMIT WHEN SOMETHING HURTS THE SAME WAY I CAN APOLOGIZE WHEN I'AM WRONG BUT HEY WHO CARES ABT A STUPID FRIENDSHIP WHEN U NEED 2 SECURE ANOTHER SEASON ON THE SHOW! THE SADDEST THING ABT BETRAYAL IS THAT IT NEVER COMES FROM THE ENEMY! 4 THE RECORD I DONT HATE U! I JUST HATE U TURNED INTO EVERYTHING U SAID U WOULD NEVER BE! GOOD BYE FRIEND!….PS: IF U OR ANYONE ELSE THINKS THE DEMISE OF OUR FRIENDSHIP IS YOUR STORY LINE 4 SEASON 7, THINK AGAIN FLIP FLOPPER
Personally I think the Instagram post was to the distract from the situation. Nene likes control and this situation with Cynthia she finally lost control of and I think she just couldn't handle it. I don't know mehn but Nene just hasn't been my favorite this season. Humility does make a whole lot difference and I just feel she needs to be fed a slice of humble pie. I was thinking maybe she and Cynthia would resolve their issues but I think she made it worse when she threw Cynthia who is meant to be her best friend under the bus when Andy asked who she thought should be fired.
Yall are friends, disagreements will arise and you just don't do that. It just seems like if you don't dance to Nene's tune then she wants nothing to do with you as a close friend. Like Kenya said if you can't get along with Cynthia then you can't get along with anyone because out of all the ladies she is the most neutral and friendliest. She is pretty much the only one who gets along with all the ladies. Well, all the ladies except Nene now. I do hope Nene sucks up her pride and allows herself be a better friend to Cynthia and not just be a good friend when it pleases her. When she saw Cynthia crying, I would have thought as a friend she would show some sort of emotion or try to comfort her but she didn't, she just sat there with the "whatever" look on her face. Personally, if I were Cynthia I would just let her be. Just too much of an emotional roller coaster to be dealing with. I miss the old Nene though, she was more fun, down to earth and easier on the eyes.
Now on to the woman of the night, Mama Joyce. hahahaha Mama Joyce is quite the character isnt she? What was up with the purring kitten voice she brought on the show. Is Mama Joyce on the market for a boo? She was looking the best Ive seen her though. If only that kitten voice was for real and it matched her character lol. Trust Mama Joyce to come out of her shell within minutes. I'm like, its either Mama J wants her own show or she has had one too many shots of alcohol before getting on that couch cos she was trash talking people left, right and center. She even threw shade at Todds mom, hahahaha. She is quite the entertainer, isnt she? lol. Anyways, In Mama Joyce's defense, if you had a daughter with Kandi's track record with men, you would be over protective too. Yeah she is a bit overboard but I can somehow see where she is coming from.
Like she said, she has been through a lot to raise her kids and I am sure she would always want the best for them. She is quite the joker thought, I just kept laughing to myself like, looks like Mama Joyce has had a bit to drink cos she just kept going on and on and on about errrrrrthang. Viewer comments did not phase her one single bit. hahaha. I really want to see how next season would play out with Mama Joyce and Todd. Now that Kandi and Todd are married, lets see if they end up getting along.
In respect to Phaedra and Kenya, I am still of the opinion that they should put their differences aside. I can actually see them being good friends. Arguing over a grown a$$ man like Apollo, errrr it's getting quite stale. Anyways you can check out clips from tonight's show below. Looking forward to PART 3 oh boy looks like its gonna be hotter than Part 1 and 2 put together. Yikes!!! lol

Picture Credit: BravoTV