PICTURES: LoudNProudLive EasterMusicFest with Jesse Jagz, Seyi Shey, Toni Payne and Yemi Alade
Below are more pictures from the event….
LoudNProudLive held its special EasterMusicFest March Edition @ the stylish DeMarquee venue in Victoria Island. It was a programme packed with live entertainment, a beautiful audience & celebrity attendance.
Another Highlight of the evening was the successful launch of the maiden Edition of LoudNProudLive monthly 'Golden Breakthrough' Auditions where contestant '9T9' emerged as the overall winner from 10 finalists. It was a unanimous decision from both audience & Judging panelists: Jesse Jagz, Weird MC, Osahon Asemota (MTV Base), Bobby Taylor (BTC), Ngozi Omambala (LoudNProudLive). Bola 'The Genie' Sonola (Smooth 98.1FM) did a great job overseeing proceedings as Audition MC
The lucky lady '9T9' will be groomed & styled by NMO Management in preparation for next month's LoudNProudLive Edition with a full live
EasterMusicFest live show was a show stopper Edition,the sexy SEYI
SHAY opened the live performance programme with 'Loving Your Way' &
set the tone for an awesome night of live music entertainment.
'The Voice' that is YEMI ALADE did an electrifying & well
choreographed set. A star in the making, her performance was simply
magical.
Toni Payne big surprise of the night gave a master class in spoken
poetry: a lyricist with a sexy attitude & had all present smiling as
she effortlessly carried everyone through a lyrical journey tinged
with eroticism… Her standing ovation was well deserved.
Presenter Hosts: Maria & Koch (The Beat99.9FM 'Morning Rush') aka
'Dynamic Duo' were superb hosts with their fun attitude & banter &
Kept the audience amused & informed throughout the show.
Monica Ogah (winner Project Fame: Season 4) opened the final half of
the live music segment performing a thrilling set of versatile songs
that cut through a variety of African music genres. Absolutely
Magnificent.
The wait & anticipation was over & Headline Jesse Jagz did not
disappoint.. Seemingly unnerved by the media controversy surrounding
his split from Chocolate City, Jesse 'The Genius' Jagz with his 8
piece J'Towners band came on stage & instantly took the audience
through a musical experience of discovery. His freestyle delivery:ON
POINT, his play with words:FAULTLESS his set culminating in a superb
rendition of 'Mamacita' – the musical mystro was not mincing his
words, answering all press queries in song. Jesse Jagz (now
represented by 'Jagz Nation') had the crowd up on their feet fired up
dancing until lights out.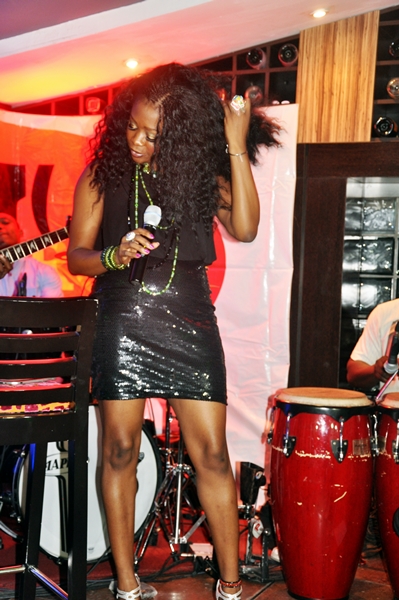 LoudNProudLive Series… Keeping REAL music ALIVE!