Santorini Greece Travel Guide – Hotels, Airport, Things to Do and more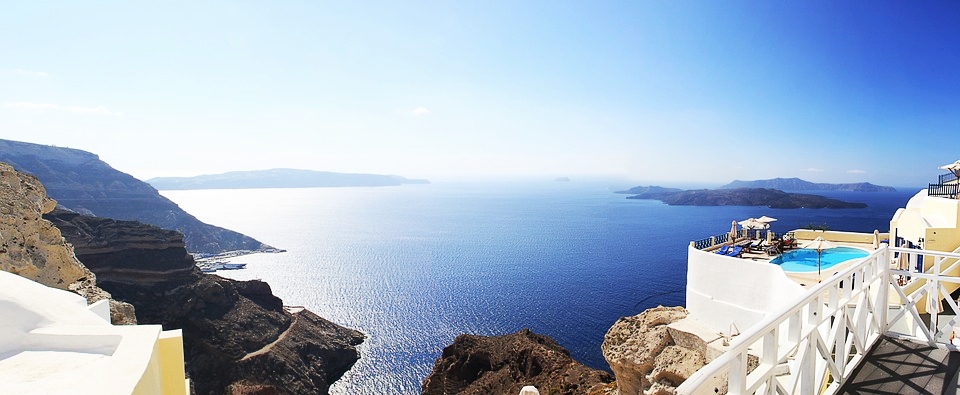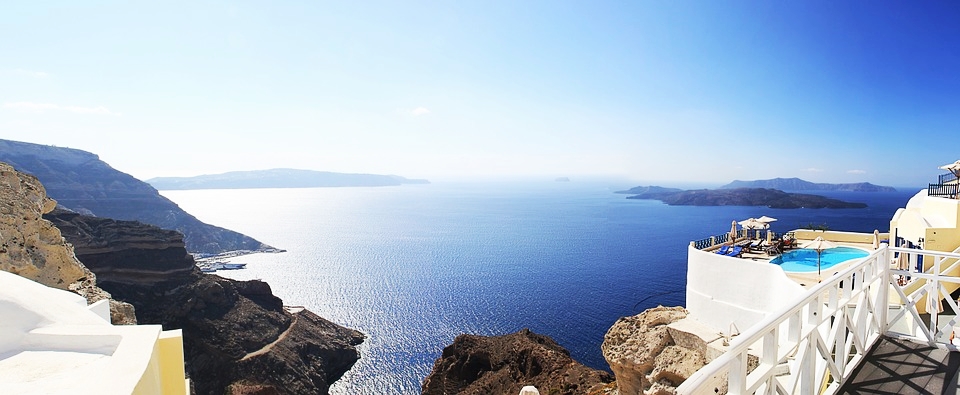 Greece is one of the top leading vacation destinations for visitors from all over the world. Popular for its architecture and historical cities like Athens, Greece has long been a favorite among vacationers.  Athens is not the only popular travel destination in Greece however.  A small village island called Santorini is also popular with tourists. The Island of Santorini also offers beautiful scenic views, and a rich cultural history,  which has made it a top spot travelers. Its beauty has also made it a top spot for destination weddings and honeymooners.
Santorini Greece Travel Guide
Visitors are drawn to this gorgeous island because of its fantastic seaside,  beautiful beaches, pleasant climate, incredible history and rich culture.  Rumor has it, if you visit Greece once, you will visit again so If you want to experience popular parts of  Greek Culture, a visit to Santorini is a plus.
Where Is Santorini, Greece?
Santorini is a small archipelago consisting of five islands. The islands are called Thera, Thirasia, Aspronisi, Palea and Nea Kameni. It is circled by the Aegean Sea and located some 60 miles north of another famous Greek island – the Crete. Reaching Santorini won't take you a lot of effort because there is an airport with connections to Athens on a regular basis.
If you are not fond of flying, you can travel by ferry which is also a popular means of transportation to Santorini. Once you arrive on the island, getting around is easy. The isle of Santorini is small so you can travel all around it on foot. You can also use buses, taxis or cable cars to move around. Renting a bike may also be a cool idea to roam around and enjoy the magnificent views on the island.
How to get to Santorini
The major international airport of Santorini is JTR. If you are flying in from Non European countries like the United States of America or Canada, you have to get a connecting flight in Athens. The distance from Athens to Santorini is about 45 minutes by air. If you are flying from a place like Los Angeles to Santorini, you may first have to catch a flight to a European country like London or Rome.
(Choose from the Best Deals to London – Book Now! )
Then you would need to catch a flight to Athens, Greece, then another flight from Athens to Santorini. A flight from London to Athens is about 4 hours. The total flight time from LAX can be up to 24 hours.
If you are flying from a European country like London, the total flight time may be about 6 hours direct and up to 11 hours if you have a long layover. Keep in mind, the cheaper flight deals may have a long layover. You would need to fly into Athens and then catch another fight from Athens to Santorini. The airport code for Athens is ATH. From the airport in Santorini, you can get a hotel or private shuttle to your hotel. Just make sure you make these arrangements before setting out.
History of Santorini
Existence of mythical Atlantis has been shrouded in controversy. While the general consensus is that Atlantis never existed,  if it did, Santorini may as well be the best candidate for its location. Excavations have proven that people settled on the island some five thousand years ago but the original inhabitants were destroyed in a devastating volcanic eruption. The whole island went was left in pieces so only a few artifacts survived as a witness of an ancient civilization. That is why some scholars believe that Santorini was home to the people of Atlantis.
Many centuries had passed before new settlers arrived on the island. They were the Phoenicians, an ancient civilization found along the coast of the Mediterranean Sea. That area is what we now know as Lebanon, Syria and parts of Israel.
From that time Santorini became an important trading post connecting East and West Mediterranean sea. Romans and Byzantines have also left their traces here and in the 13th century, the Crusaders formed their state called the Duchy of Naxos. They were defeated by the Ottoman Empire in the 16th century. During three centuries of the Turkish rule, Santorini renewed its role as one of the major trading centers in the Mediterranean Sea.
It preserved its importance in the independent Greece until a devastating earthquake in 1956. Although it is not a center of trade anymore, Santorini has found its source of development in tourism.  It is one of the top spots for destination weddings. It is also a top, honeymoons vacation destination and one of the most romantic places in the world.
Things to do in Santorini, Greece
Finding interesting things to do in Santorini is not a problem. Although the best part of Santorini remains its beautiful scenic views, historically it is also an intriguing island to visit. History lovers will appreciate the ruins of the ancient city of Akrotiri which is usually compared to Pompei in Italy. The Mesa Vouno is another cool archaeological site on the island that dates back to the 9th century BC.
If you want to learn more about the fascinating past of the isle you should visit one of many museums in Santorini. The Archaeological Museum will leaved your wowed at the archaeological history of the island. If you are interested in the history of the locals, Folklore Museum is also a good place to visit.  Naval Museum is one of the tourist favorites as well as the Wine Museum and Museum of Musical Instruments.
New islands and Breath taking views
While in Santorini,  don't miss a chance to visit the youngest island in Europe also located in the middle of the island. The Nea Kameni island just started to form about 440 years ago after a Volcanic eruption around that period.  Another island, the Palea Kameni island also developed the same way, however, it is a bit older and dates about 2000 years back.
You should also make some time to visit local villages like Fira, Oia or Pyrgos, where you can see the small white church. The architecture of these villages are absolutely unique and breathtaking. Also, just above the Pyrgos, you will find Mt. Profítis Ilías which is the highest peak on Santorini. There is also a small monastery on top of the hill, which is open to the public. The view from there is simply amazing and will leave you in awe. Dont forget your camera because great memories are a must in Santorini.
Hotels in Santorini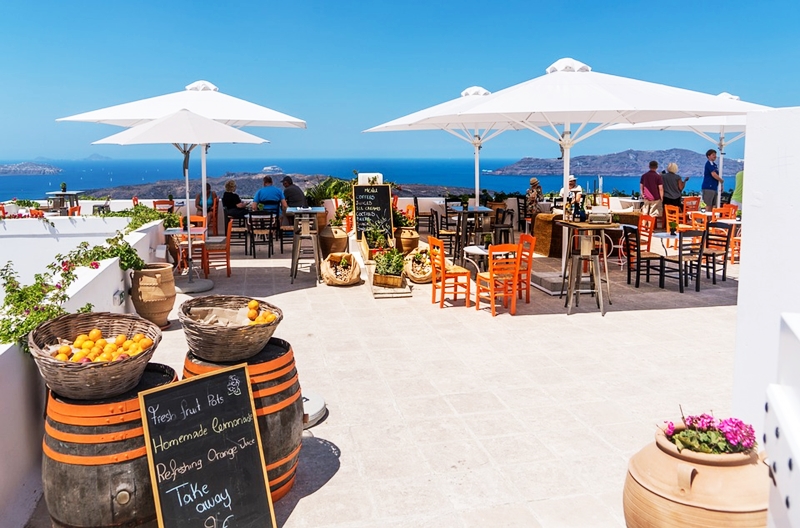 Deciding on where to stay in Santorini depends on what you expect from your stay. Are you looking for pure luxury or doyou simply wish to spend mst time outdoor not minding your accommodation. One of the most requested Amenities is a room with a beautiful view. It doesn't just stop there. You also have to decide if you want to enjoy spectacular views from the top of the hill, or you want to be close to the beach.
There are pros and cons for either of the two possibilities. If you get a hotel at the top of the hill, you will not have an easy access to the beach. You would need to rent a car, motorcycle or use public transportation to travel to the beach. If you have children, the better option may be to stay close to the beach with the occupational visit to catch the breathtaking views from the top.
Is Santorini Affordable?
Our Santorini Greece Travel Guide says yes. Santorini offers a lot when it comes to accommodation. There is a misconception that the Greek island is not affordable. This is not true. This is where budgeting well comes in. Although a lot of hotels are expensive, you can find deals year round that will make your stay more affordable. Planning ahead also helps. You can also look for smaller hotels within the same area as the more expensive ones. These hotels also offer quality and great service. You can use a site like Groupon (who also is a trusted affiliate) to get deals year round.
There are other types of accommodations in Santorini. You can choose to rent an apartment, find a luxury villa, or book a suite in one of the beautiful Greek resorts. The possibilities depend on the depth of your pockets and the sum of money you are willing to pay for lodging. The important thing to keep in mind is that a trip to Santorini can be affordable. One quirky thing about finding accommodation in Santorini is that sometimes, you will find old ladies on the beach who search for tourists to offer them affordable rooms in their private houses.
The unique taste of the Greek cuisine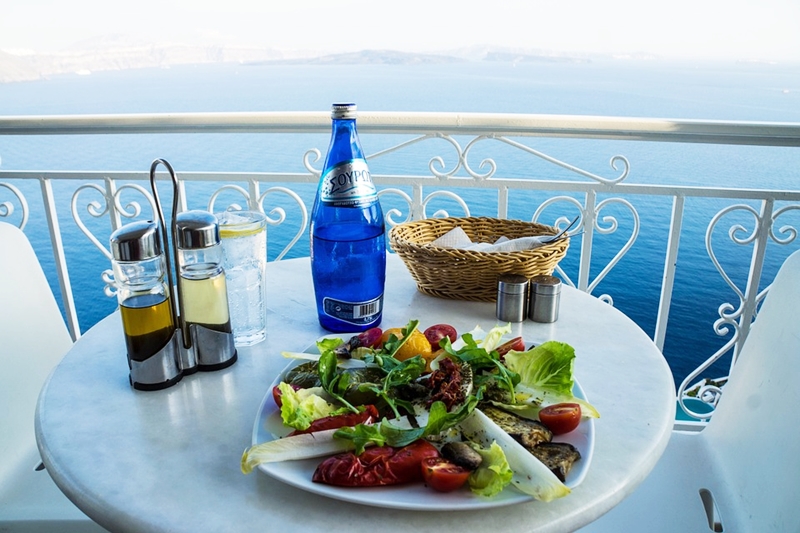 In our Santorini Greece Travel Guide, you will find that Greek cuisine is based mostly on the island's agricultural products. The mouth-watering dishes will lure every gourmet to visit Santorini. It is often said that even though Santorini is small in size, its cuisine is big. In Santorini you will find original, tasty, and above everything else, healthy food.  A notable food products on the island is, the famous Tomataki. Tomaki is a unique cherry tomato that is grown only in this area. Traditional Santorini dishes, tomato paste and tomato fritters, are made of Tomataki.
If you are one of the curious when it comes to foreign cuisine, we recommend Fava Santorini, yellow split peas. These can be found in numerous recipes, mixed with tomatoes, pieces of pork, onion, and aubergines. Also, traditional Greek meals such as Moussaka, Dolmades, and Taramasalata are a must try. You will find a wide variety of restaurants offering international meals, so in case you don't like the traditional ones, you can always order food like pizza.
Santorini offers a wholesome experience for any traveler
An experienced traveler will combine all the advantages of Santorini to make their vacation a perfect one. You can arrange for different tourist programs related to history, geology, culture and gastronomy.  In addition, there are clubs, beach parties and celebrations throughout the whole island.  Those willing to party will be more than satisfied. When it comes to entertainment during the day, you can include various activities like walking and photography tours. Walking tours will take you around some of the most interesting parts of the island. Photography tours is a must if you wish to capture some of the beautiful scenery on camera.
Other activities like diving activities and volcano trekking will create unforgettable memories for any adventurers. Activities can be arranged with your hotel or experienced local guides.
Our Santorini Greece Travel Guide shows the island is a full package. It has everything a real traveler yearns for, from crystal clean water to magnificent views, to extraordinary cuisine, and an awful lot of activities to make the adrenaline rush through your body.