Hyperpigmentation – What Causes Dark Knuckles and Joints [PODCAST 20]
On this episode of Trending Topics with Toni Payne I discuss Hyperpigmentation and why having dark knuckles is not always caused by skin bleaching. Do you have hyperpigmentation? Do you want to know what causes it? Have you been self conscious about your dark knuckles, patchy skin or joints? If you would like to find out more about hyperpigmentation and how to reduce and possibly get rid of it, you want to listen to this episode of Trending Topics with Toni Payne.
Excerpt –
Personally, I don't believe dark joint or knuckles is the 1st sign of bleaching. The 1st sign I believe would be a dramatic change in skin tone. Naomi Campbell one day and Beyonce the next. Keep in mind, weather does affect skin tone, some get lighter naturally when its cooler and darker when its hot so when I say dramatic, I mean DRAMATIC change.

Now, let me share with you some possible causes of hyper-pigmentation around your joints aka dark knuckles, elbows etc. The most common causes are; it can be hereditary (feel free to thank your parents lol), sun exposure, not properly moisturizing your skin, history of skin inflammation, diabetes, dish washing soaps, taking too much Iron, eczema, psoriasis and a condition called Acanthosis Nigricans.
This episode is also available on iTunes, Stitcher Radio, TuneIn, Youtube, PlayerFM, GooglePlay, etc. If you enjoyed this episode, kindly subscribe, share, rate and comment.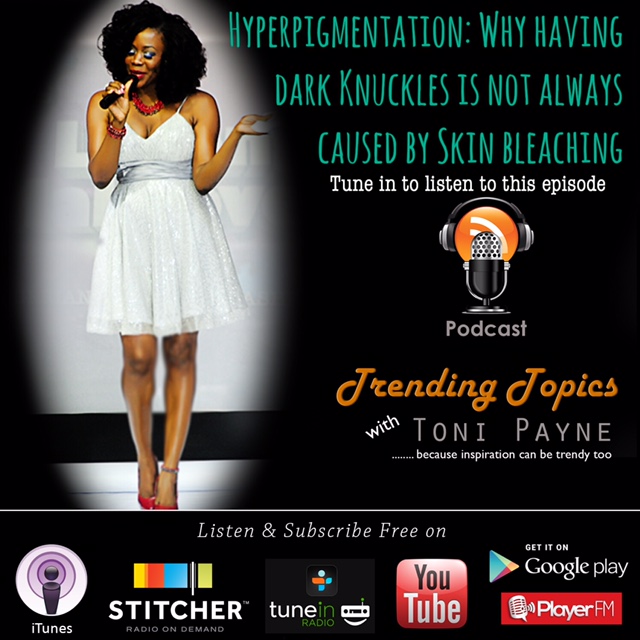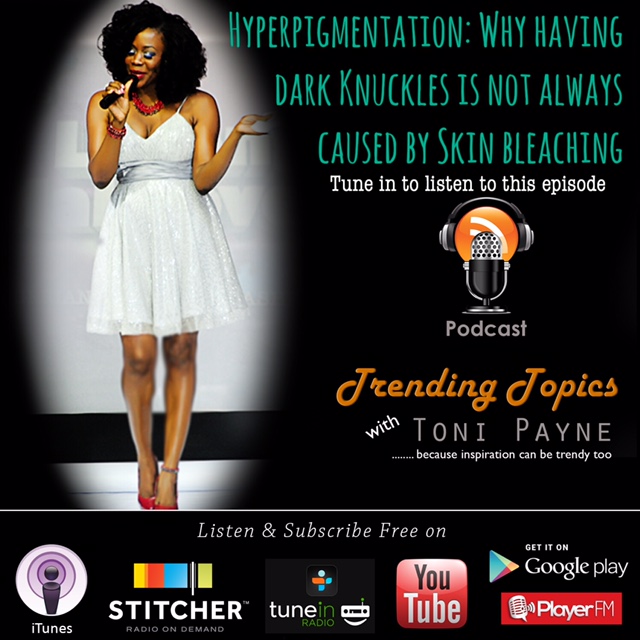 Podcast: Play in new window | Download | Embed
Subscribe: Apple Podcasts | RSS | More