Food Review: Stouffers Lasagna with Meat and Sauce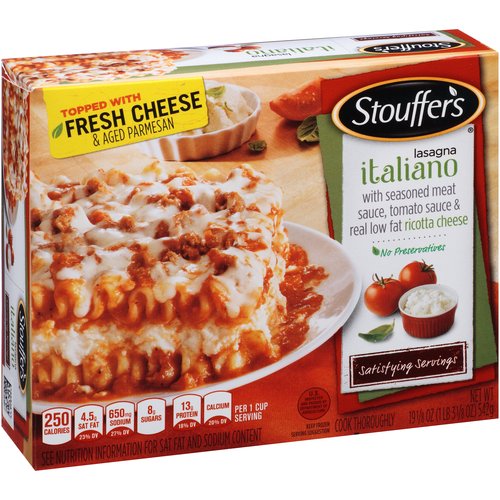 I have a ridiculously busy schedule so although I love to cook, sometimes I am so tired putting the ingredients together and standing there to make the food is a huge task. Now, because I enjoy a good home cooked meal, and of course being someone who cooks well, IK am quite selective when I eat food I did not cook. In this post, I will be reviewing Nestle's Stouffers Lasagna with Meat and Sauce and also giving tips on getting the best out of it. 
When I first saw the box of Stouffers Lasagna with Meat and Sauce, I thought to myself, oh boy, another TV dinner. No thank you. It took me weeks and a random decision to purchase a box. The motivation was simply because I absolutely love Lasagna, it was clearly stated that it has no preservatives, and I was so hungry and tired that day I had to put my food snobbish antics aside and eat something that did not require preparation. Let me just say I am glad I made that purchase.
The box says you can prepare it two ways; by microwaving it or by cooking it in an oven. I opted for the oven because I am not a big fan of Microwaving food that should be cook properly. I pre-heated my oven at 350 degrees and waited for about 5 minutes before chucking it in. I let it cook for about an hour, checking on it frequently till I was satisfied that it was fully cooked. The Lasagna when oven cooked, cooks as close to freshly made lasagna as you will get from a frozen dinner. The next step is to take it out let it sit to cool off a bit and then you are good to go.
I have tried the microwave method for one of my subsequent purchases, it turned out delicious but I still prefer the oven method. As far as taste goes, Stouffers Lasagna with Meat and Sauce is very tasty. It is way better than what a TV dinner should be, and the no preservatives factor is an added plus. If you are someone who loves italian food or lasagna as much as I do, you definitely want to give it a shot. If you a tired of bland TV dinners, then this will give you a new perspective that not all TV dinners are tasteless. Stouffers Lasagna with Meat and Sauce comes highly recommended by me.
You can purchase a box here [STOUFFERS LASAGNA ] to try it out. Note: It comes in a variety of sizes, the size I got was the "Satisfying Service" and that serves about two people.