Billionaire Toys – Hennessey Venom GT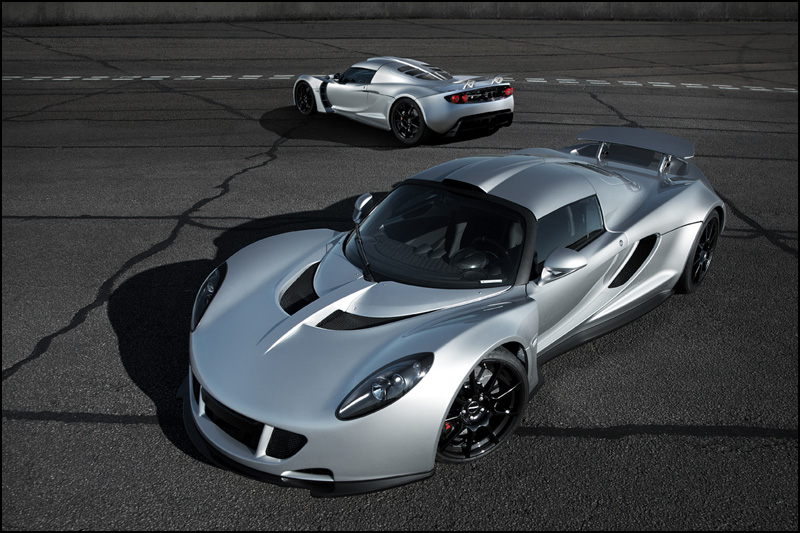 We are changing things up a bit in our lets talk cars segment. In this post, I will be talking billionaire toys. Well, technically it could also be millionaire toys but for the sake of being gaudy we will stick to billionaire toys. In todays billionaire toys, we have the Hennessey Venom GT. This magnificent beauty is the brainchild of Sealy, Texas based Hennessey Performance.
Priced at $1.2 Million dollars, the company plans to build a total of 29 cars in all. As of last year only 11 cars have been sold worldwide and only 5 are known to be in the United States. FYI: If you are an owner, I don't mind a test drive. winks
The Hennessey Venom GT set a Guinness World Book record time of 0 to 186 miles per hour in just 14 seconds.
Check out the Full Specifications below..
Performance
0-60 mph
0-100 mph
0-300 km/h
0-200 mph
¼ mile
Standing half mile
Standing mile
Verified speed
Est. top speed
2.7 sec.
5.6 sec.
13.63 sec. – Guinness World Record
14.51 sec. – Hypercar World Record
9.92 sec. @ 163 mph
206 mph
253 mph
270.49 mph
278 mph
Engine
Type
Valvetrain
Block/heads
Forced induction
Horsepower
Torque
Displacement
Compression ratio
Redline
Lubrication
Fuel injection
90-degree V8
overhead valve, 2 valves/cyl
iron /aluminum
twin precision ball bearing turbochargers
1244 bhp @ 6600 rpm (cockpit-adjustable to 800, 1000 & 1244 bhp)
1155 lb-ft @ 4400 rpm
7000 cc/427 cu. in.
9.2:1
7200 rpm
dry sump system
electronic sequential multi-port
Chassis
Layout
Body/frame
Brakes, f & r
Wheels
Tires
Steering
Suspension, f&r
Springs/shocks
Ride height
mid-longitudinal engine/rear drive
carbon fiber & composite/aluminum hybrid monocoque-space frame
15.0 x 1.3-in. carbon-ceramic rotors, 6-piston Brembo fixed calipers
Hennessey H10 forged monoblock, 9.5 x 19 front, 12.5 x 20 rear
Michelin Pilot Super Sport; 265/30ZR19 front, 345/30ZR20 rear
rack & pinion, 6-position variable electric assist
unequal-length tubular A-arms, anti-roll bars
Penske 2-way-adjustable coilovers
adjustable; range of 2.4 in.
Drivetrain
Transmission Ricardo 6-Speed manual
Final Drive Ratio 3.36:1
1st gear/max speed
2nd gear/max speed
3rd gear/max speed
4th gear/max speed
5th gear/max speed
6th gear/max speed 2.61:1 69 mph
1.71:1 105 mph
1.23:1 146 mph
0.94:1 191mph
0.77:1 233 mph
0.63:1 278 mph
Dimensions & Capacities
Length
Width
Height
Wheelbase
Track, front
Track, rear
Ground clearance
Curb weight
Fuel capacity
Weight distribution, f/r %
(with driver & passenger) 183.7 in./4655 mm
77.2 in./1960 mm
44.7 in./1135 mm
110.2 in./2800 mm
63.5 in./1612 mm
63.2 in./1604 mm
3.5 in. to 5.9 in./90 mm to 150 mm
2743 lb/1244 kg
18.5 gal./70 liters
44/56
Optional Upgrades
• Michelin Pilot Sport Cup ZP Tires
• Bare Carbon Fiber Finish
• Right-Hand Drive
• Stefano Ricci Bespoke Interior
• Stereo System Designed by Steven Tyler of Aerosmith