What is Happening to Cassie's Music Career? The P-Diddy Factor!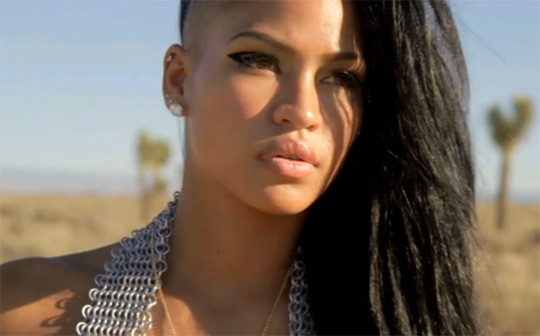 What is going on with Singer Cassie? Is it me or has her music career sorta been on a major decline and now a major standstill since she started dating P.Diddy? Now, don't get me wrong, I'm not tryna start stuff but I and I am sure many others have made this little observation. One would have thought if you are dating one of the biggest music moguls out there, your career would be at its peak but naa she is busy posting selfies on instagram (not that there is anything wrong with that lol).
The last time she put anything major out there was a year ago and that was the video for Numb featuring Rick Ross, then the remix with Wiz Khalifa. Gurrrrrrrrrl. P.Diddy should be  spanked. No, I mean it literally and not in a kinky way. lol. He is all over the place like Cassie this, Cassie that and you can't help a sister out?  Tell us less about how much you love her pretty face, feet or other body parts and more about her new take over single DUDE!..Shaking my head!.
I know it's easy to judge looking at it from the outside so let me just throw this out there, I know the music industry can be brutal so to be fair to her, maybe she is trying and it is just not connecting well.  Then again, [don't crucify me now], maybe she doesn't believe in herself "enough" because I am sure funding is not the problem. You own your destiny right? Cassie has the talent, has the looks, has the connections, so what in the world is stopping her from being up there with the Rihanna's and Beyonce's? If she were in Africa I would have said maybe its the village witches holding her destiny in a jar. iJoke. lol
Here is a piece of advice for Cassie, put you first. Not saying he doesn't love you but that man has like 3 baby mamas and 6 kids and they will always be priority, main chick or not. Get your coins and the only way to do that is to be a music act first and a girlfriend next. Be on that red carpet for YOU not as his date. See Beyonce and Jay? Beyonce wont even mess up her cute outfit for a man who wifed her. hahaha. ok, iJoke again.  If I were dating Diddy, it's you support me like I support you or bust. [oh and she is supporting the heck out of him, got Revolt as her DP and errtang, gurl you better put a picture of your single up.]  Is he putting a ring on it? I think we know the answer to that. Don't waste your talent over a man who won"t even wife you, hell, don't waste your talent over any man PERIOD. Go get it girl. *Muah Muah*
In case you do not remember who Cassie is [it even hurts to have to do this] here is a little refresher and a link to her video NUMB
Casandra Elizabeth "Cassie" Ventura (born August 26, 1986), known mononymously as Cassie, is an American recording artist, dancer, actress and model. Born in New London, Connecticut, she began her career as a result of meeting record producer Ryan Leslie in late 2002, who later signed her to NextSelection Lifestyle Group. During this time, Diddy heard "Me & U" in a club, and Leslie convinced him to partner his Bad Boy Records with Leslie's NextSelection imprint for the release of Cassie's debut album
Cassie's self titled debut studio album was released in August 2006, peaking at number four on the Billboard 200 chart and features the Billboard Hot 100 top three hit "Me & U", which became a major hit in 2006. She began work on her second studio album in 2007 releasing three singles; "Official Girl" featuring Lil Wayne in August 2008, "Must Be Love" featuring Diddy in April 2009, and "Lets Get Crazy" featuring Akon in August 2009, which all failed to chart in the USA, in late 2009 Cassie signed a record deal with Interscope Records. On April 11, 2013 Cassie released her debut mixtape RockaByeBaby, which was promoted with the release of "Numb" featuring Rick Ross and "Paradise" featuring Wiz Khalifa.
Apart from music, Cassie is signed to modeling agency Wilhelmina Models and One Management. Cassie has modeled for Calvin Klein one and has featured in magazines including GQ and Bust and becoming the face of ASOS 2013 spring collection, Cassie has appeared in adverts for Delia's, Adidas, Abercrombie & Fitch, Seventeen, and a commercial for Clean and Clear. Cassie is known for being a style icon due to her "edgy style" and "feminine" and "sophisticated" fashion. Cassie is known for setting the trend among women of shaving their hair, after Cassie shaved hers in 2009 influenced by punk. Cassie cites Kate Moss as her style influence.[9] Cassie has also ventured into acting, she made her film debut in Step Up 2: The Streets (2008). – shalla to wikipedia