Mercedes Benz G63 AMG vs. Land Rover Range Rover Autobiography – Which SUV would you choose?
When naming luxury sport utility vehicles two brands that will always come to mind are Mercedes Benz and Land Rover. These two car companies have managed over years to maintain a status quo of ultimate luxury Although I have my personal favorite between the two, I can not deny that they can both go head to head in any SUV enthusiasts heart. The other day an argument ensued and we were left trying to decide which we liked better. The Mercedes Benz G Class or the Range Rover.
Land Rover won my heart during my very first test drive over 10 years ago. I got to experience what it would be like driving a Range Rover in a rough terrain. It was an amazing experience and ever since I have followed the maker for years even though Mercedes Benz has my heart and the G Class remains my all time favorite SUV. 
Let's put my personal bias aside for a quick second and compare these two beasts side by side. We know the two car companies are known for their dedication to detail, craft and engineering and of course the big price tag, but what do both cars have to offer performance wise and which car outdoes the other?
The two models I will be comparing are two of the highest grade models from both Brands..The G 63 AMG and the Range Rover Autobiography..
About the Range Rover Autobiography (Supercharged)
Tag Line – Built to Perfection
Gives option to build your own
Long Wheelbase giving more leg room
Hybrid Option
Diesel  or Petrol Engine Option
8 Cylinders
Torque is up to 5500 RPM
Max Speed 140 MPH (Miles per hour)
Fuel Capacity 105 Litres
Does 0- 60 MPH in 5.5 seconds
Length is 204.6 inches
Price Tag: starting from $170,000
You can read the full specifications here – LAND ROVER
About the Mercedes Benz G63 AMG (biTurbo)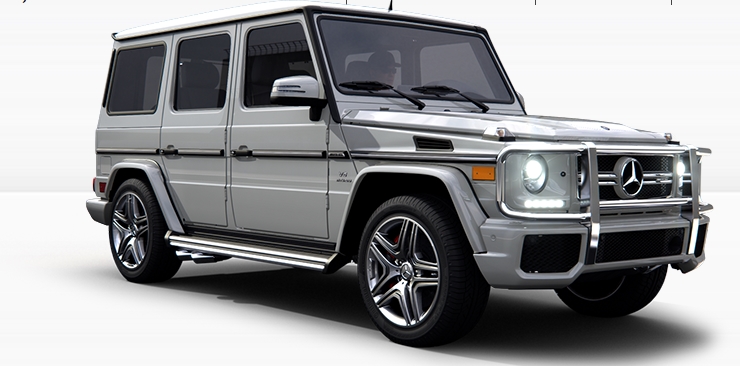 Tag Line – Comfortable cruising, extra sensory perceptions
Gives option to build your own
Handcrafted AMG 5.5L biturbo V-8
8 cylinders
Torque is up to 5000RPM
536 Horsepower at 5500 RPM
Does 0 – 60 MPH in 5.3 seconds
Fuel Capacity 29.0
Transmission is 7 Speed Automatic
Length is 187.5 inches
Price Tag: $137,150 msrp
You can read the full specifications here – MERCEDES BENZ
The G63 and the Autobiography comes with a lot of awesome luxury features on the interior so really, you can't go wrong either way. I however prefer the Autobiography's interior because of it's modern style and because it offers more options. Depending on what you are looking for and your personal style choosing one of these should serve you just fine. Exterior wise, I personally prefer the box design the G wagon is famous for, but the longer wheel base the Authobiography offers is extremely enticing. Performance wise there isn't much of a difference but as you can see the price tag difference is huge. Overall if I wanted to choose a vehicle to get more bang for my buck I personally would choose the G63. If I wanted a luxury SUV that offers a lot of perks with a roomy interior, I would choose the Range Rover Autobiography.
So which of the two vehicles do you prefer? Feel free to comment below.