"Tonight's Dinner" How to make Fried Plaintain and Rich Eggs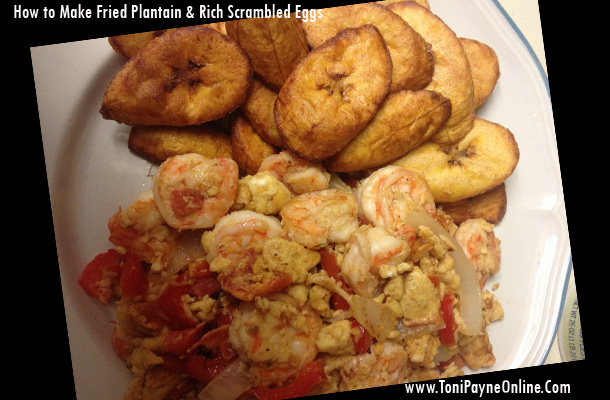 Welcome to Tonight's Dinner. On the menu we have Fried Plantain and Rich Scrambled Eggs. I am not a big fan of plain eggs so I added a bit of vavavoom to my eggs using Shrimp, Bell Peppers, Tomatoes and Onions.  I am not awesome on traditional recipe writing so I will just give simple instructions on how I made tonight's dinner so feel free to improvise. Let us start with things you will need.
Ingredients:
2 Ripe Plantains
2 Large Eggs
1/4 Bell Peppers
1/4 Onions
1/2 Tomatoes
Shrimps (I love shrimp so I used as many as I desired, you can do the same)
Vegetable Oil (or any other cooking oil you find healthy)
1 Small Maggi Cube
This should serve 1-2 people.
Cooking Instructions for Plantain
1. Cut Plantain into thin pieces into a bowl
2. Add a bit of salt to Plantain and mix (Salt is always optional for those who don't like salt)
3. Heat Vegetable Oil in Large Frying Pan.
4. When heated, gently pour Plantain in. (I hate when my fried plantain stick together so I carefully place each plantain in the oil. You do not have to but this helps keep them separated)
5. Allow it fry till it is light brown on one side, then carefully flip each one over and allow fry till both sides are a light to medium brown. (If you are not sure how brown, see picture above.
6. Take Plantain out using a frying spoon and put in an oil sifter bowl. (I do this to get rid of excess oil)
Your Plantain is ready to eat. Simply serve on your plate along with your side(eggs in this case) and you are good to go.
Cooking Instructions for Fried Eggs with Shrimp, Pepper, Onions and Tomatoes
1. Remove Shrimp from Shell carefully.
2. Using a small kitchen knife, cut down the back of the shrimp to Devein it. (this is the part I spend a lot of time one because I absolutely dislike the look of shrimp veins so I make sure I get it all out.
3. Wash Shrimps thoroughly and set aside in a separate bowl
4. Cut other ingredients (onions, pepper, tomatoes) into small pieces and place into a separate bowl.
5. Break two eggs into another bowl and add 1/4 of the maggi cube for seasoning and mix to desired consistency
6. Add a bit of vegetable oil to the frying pan allowing it to heat a bit
7. Pour in the other ingredients followed by the shrimps, add 2/4 of the maggi seasoning and stir till it is 90% cooked
8. Pour in eggs and stir till scrambled.
9. Allow it to cook till desired texture. (My favorite texture is well cooked)
10. Using the frying spoon, take out the eggs and serve. (Note: we did not use a lot of oil for the eggs, just enough to fry the eggs so there will be no need for the oil sifter bowl.
Note: I did not use Salt in my eggs. This is because I prefer the taste of seasoning vs salt in eggs.
I hope you enjoy your Fried Plantain and Eggs as much I enjoyed mine. Feel free to bookmark this website for more of "Tonight's Dinner"
Have you successfully made this meal? Feel free to share you experience below. If you have any questions feel free to ask below too.
Love to cook? You can also read my review on the Aroma Rice Cooker here. If you like what you see, do feel free to click on the share buttons.