Cooking made easy with the Aroma Rice Cooker and Food Steamer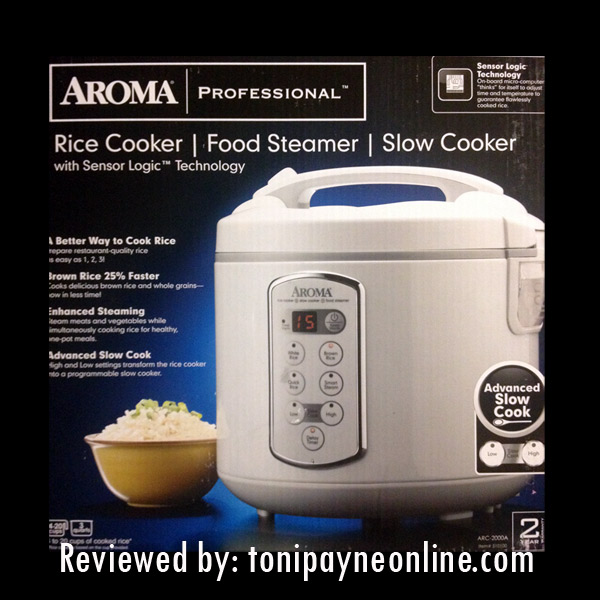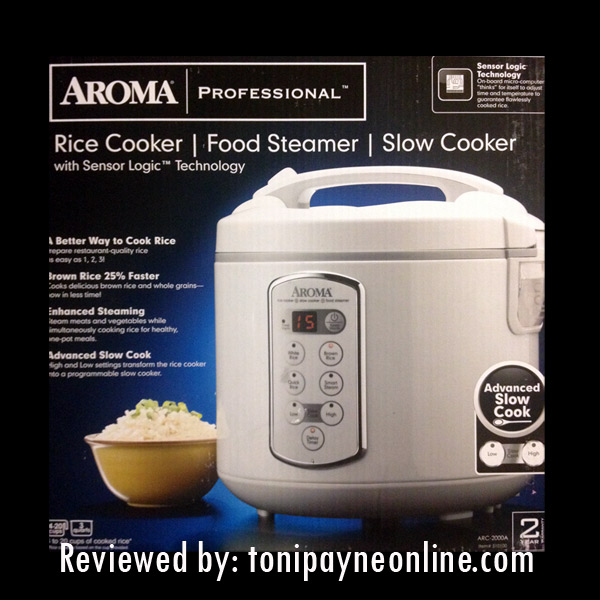 I finally had the opportunity to take the Aroma Rice Cooker, Food Steamer and Slow Cooker with Sensor Logic technology for a spin. I will be reviewing the 10 cup (uncooked) capacity in white. We eat rice a lot in my household so a rice cooker is one essential that comes in handy. I particularly like this one because it also comes with the option to steam different types of food.
Athough I was initially skeptical about the digital one step rice cooking technology, that was easily resolved  and I will tell you why. My previous rice cooker was also a one step cooker but it wasn't digital. It was reliable and that worked for me. I had become so accustomed to it that changing to a digital one took me weeks of the rice cooker sitting there to decide. I knew the new cooker looked "cool", I read the box and the features sounded good, but could it give me more bang for my buck than what my rice cooker already gave? This I would have to eventually find out. What prompted me to give it a shot you ask? Necessity! We were having guests over and my previous rice cooker was just too small to cook enough rice for everyone. I did not want to cook twice, being selective of what guests I serve first.
While trying to decide what to do, the light bulb in my head went off and I said to myself, "wait a minute, why not use the bigger Rice Cooker you have sitting there?" I am very glad I did.  From the non stick interior, to the simplicity of use, the Aroma Rice Cooker, Food Steamer and Slow Cooker was just what I needed. Another perk is that it comes at just the right price. As you read on, I will be listing some pros and cons of the rice cooker  that I have noticed. This may help you better decide if it is the right fit for you.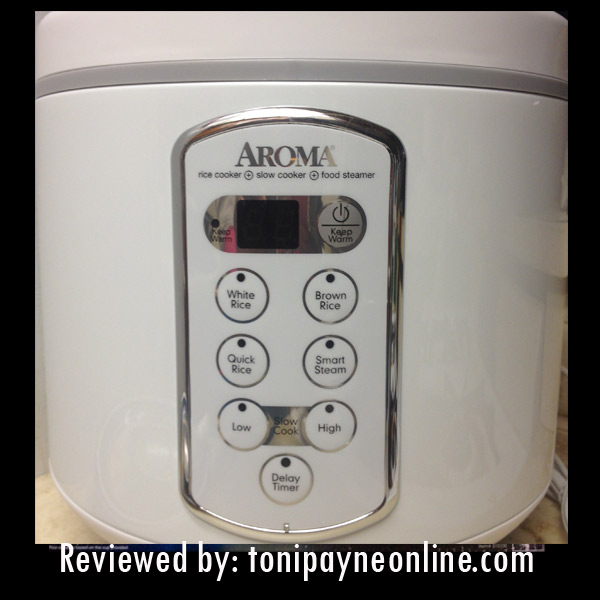 Pros:
Affordable
Has a Keep Warm Feature that does not dry out the rice (My previous cooker did this)
Capacity to cook rice for up to 8 or more people.
Easy to use
Has buttons for White Rice, Brown Rice, Quick Rice and Smart Steam
Can be used for things other than rice like cooking vegetables, meat, etc
Comes with a handy recipe cook with over 30 recipes (whoohooo, I will be trying some if not most out)
Non Stick cooking pan makes it easy to clean (this is very important, I totally dislike sticky pots)
It is as easy as switching on the power button and pressing the appropriate button. (Yaay for the lazy me lol)
Cons:
Still trying to figure out how to effectively use the delay timer after the cooking process. I just press a combination of buttons till it works. I am sure reading the manual will help but I'm a kitchen Ninja, I'm sure Ill figure it out on my own.
Honestly, I have not seen any other cons yet but I will add that because it was too easy to use I initially got confused expecting more than 1 step to cooking. This was my error. Yes it really is as simple as pressing a button. If I find any later on, I will update below.
The Aroma Rice cooker I use was purchased at Costco but it is readily available online at [Aroma ARC-2000A Professional 20-Cup (Cooked) Rice Cooker, Food Steamer and Slow Cooker
]
Like I said before I have the 20 Cups in White but it is available in smaller sizes and different colors like the 4 cups (uncooked) in Stainless [Aroma ARC-914SBD 4-Cup (Uncooked) 8-Cup (Cooked) Digital Rice Cooker and Food Steamer
]
Although a tad bit more expensive than the White, the 20 cup also comes in Stainless Steel [ Aroma ARC-2000SB 20-Cup (Cooked) Sensor Logic Rice Cooker and Food Steamer
]
When I cooked my first batch, I did not use the measuring cup included in the box. Did I mention I am a Kitchen Ninja? I improvised like I always do and my rice was a tiny wincy bit under cooked. My error again. That problem was easily adjusted with the "Delay Timer", so if your timer goes off before you reach desired consistency, simply hit the delay timer, put in a bit more water and you are good to go. I did get lost a bit here but hitting the rice button after worked.  Keep in mind it uses steam technology so a whole lot of water is not needed.
There is a measuring cup provided, but if you are a seasoned cook like me, you will figure it out in no time without the provided tools. What I love most about this Rice Cooker is that it is just so easy to use. I will be using it for other things like Steamed Vegetables, Roast Beef and pretty much anything that can be steam cooked. Afterall, It has the capacity to do that.
Now my previous rice cooker is neatly tucked away in the pantry, although I was accustomed to it,  something tells me this is one upgrade I will continue being glad I made.
Have you tried the Aroma Rice Cooker, Food Steamer and Slow cooker? Feel free to share your experience by dropping a comment below.