Things to do at Venice Beach – California Beaches
Venice beach is one of the most popular beaches in Los Angeles, California. It is very popular for its diverse boardwalk where you can spot unique talents doing their thing. Want to a change to take pictures with a large python around your neck, chances are you can while visiting Venice.  Venice, like Hollywood Walk, also has street entertainers. Dancers, Singers, Artists all line the boardwalk which attracts hundreds of thousands of people yearly. Spotting street entertainers on the boardwalk isn't the only thing you can do at Venice beach. Venice beach offers an array of activities for any beach goer. It is free and opens from 6:00 a.m. till 10:00 p.m. Parking at Venice beach can be a bit pricey. The average parking fee is $18.
Relaxing on Venice Beach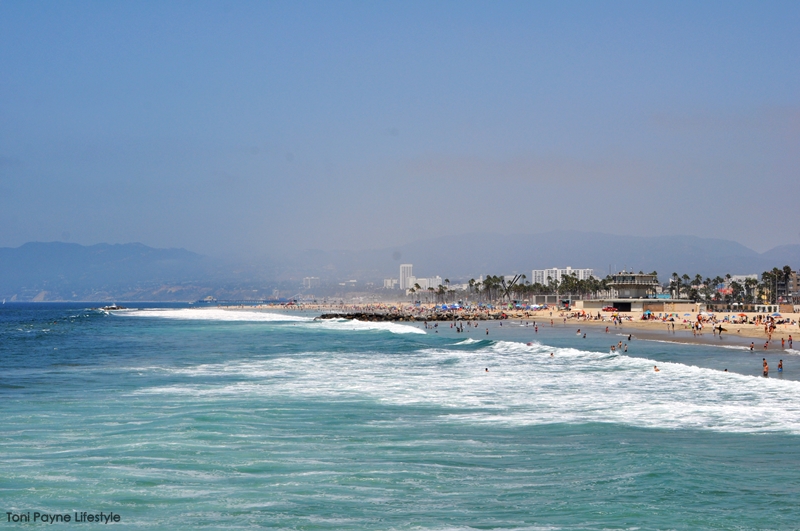 This is probably the second most popular activity on Venice Beach next to walking on the boardwalk. Venice beach offers a true beach experience. It has a long stretch of sand which extends all the way to Santa Monica beach. One thing I absolutely love about Venice Beach is that, you have the less crowded side, close to the pier, and the more crowded side, closer to the boardwalk. This allows you choose your beach experience. The water is also much more prettier closer to the pier.
You can bring along a picnic basket and make it a day out but don't forget to clean up after yourself. Also remember, there is no alcohol or smoking allowed on the beach. Venice beach also has lifeguard handy who alert beach goers when there are big waves. Both ends of the beach offer parking so it is advisable to park closer to what ever side you wish to be at. Just a hint, the 1800 Ocean Front Walk address will lead you to the pier. Either way, you will enjoy the beach experience at Venice beach.
Taking a stroll on the Venice Beach Pier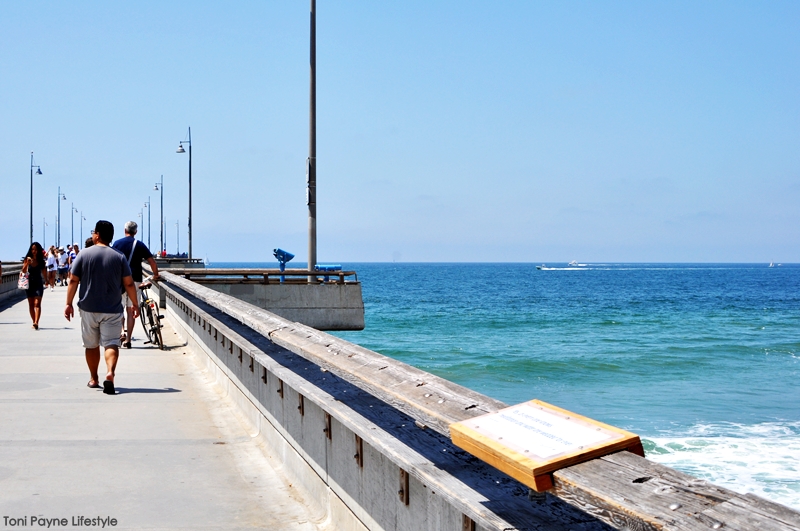 One of the things you have to experience while at Venice beach is the pier. The view from the absolute end of the pier is amazing. The pier is built right on the water so you are able to walk over the water for the better view of the ocean. Here you can spot beach goers taking in some sun. You can also spot surfers, jet ski riders and boats cruising on the ocean. The pier is popular for fishing. During the day you may spot several people with their fishing lines out, catching some fish. The Venice pier is also great for a romantic walk with that special one.
Fishing at Venice Beach
If you take a stroll on the pier during the day, you will notice people actively fishing. Venice beach seems to be a good spot for catching fish. If you do decide to go fishing at Venice, make sure you read all warning signs. There are some fishes at Venice that are considered not good for human consumption. Here are some things to consider if you do decide to go fish at Venice pier.
Fishing is Free.
You do not need a license to fish at Venice beach pier.
If you forget your bait at home, there is a bait shop up the street from the pier.
Some of the fish you can catch here include sharks, white sea bass, queen fish and barracuda.
The pier is about 400 meters long so there is a vast amount of space to set up.
Bike Riding on Venice Beach
Venice beach attracts a lot of bike riders who want to enjoy the scenery while riding on their bikes. Bike riding is a popular activity at Venice.You can ride alone of in a group. You can also bring your own bike or rent one. There are several bike rental spots on and around the boardwalk. There is also a bike path dedicated to bike riders.
Playing Volleyball at Venice Beach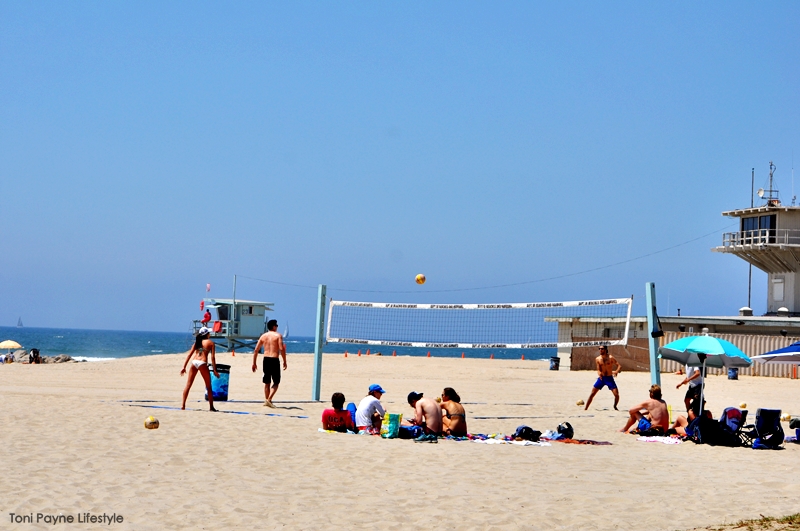 Venice beach has several beach volleyball courts to choose from. You can play private games with friends or ask to join other beach volleyball players. Some groups even have volleyball meetups that meet here. The volleyball courts are central, close to the recreation center and tennis courts.
Sports at Venice Beach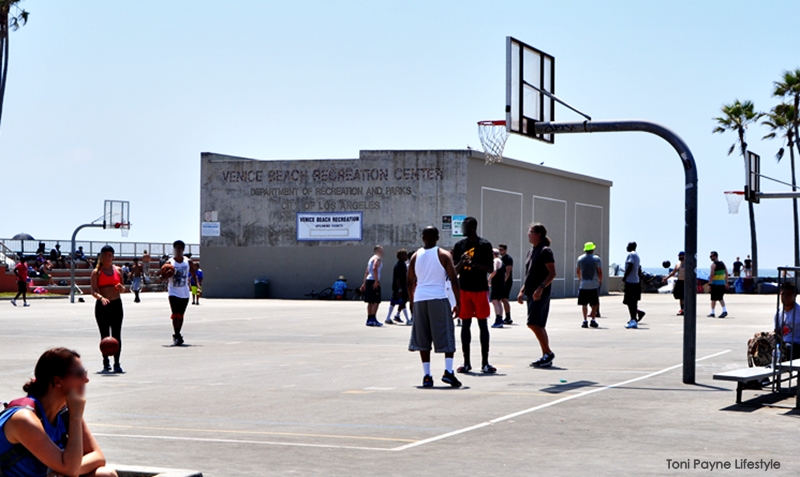 Venice beach has a recreation center provided by the Los Angeles department of recreation and parks. There, you can participate in several sports like basketball, handball, gymnastics and also tennis. It is also next to the infamous Muscle Beach where you can spot all sorts of hot bods working out. If playing sports is not your thing, there are spectator benches available to sit and watch.
Henna Tattoos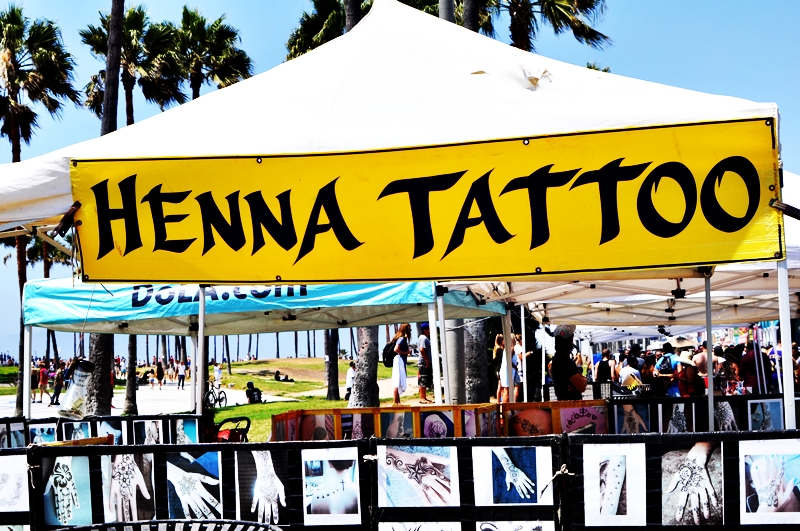 Venice beach boardwalk has several places where you can get a temporary Henna tattoo.  Some are located inside the boardwalk shops while some are outside under tents. You will find a wide selection of designs to choose from. These tattoos depending on you skin are meant to last up to 1 week but could last longer. Other things you can do besides getting a henna is have your likeness molded in clay and of course do some touristy shopping.
Shopping at Venice Boardwalk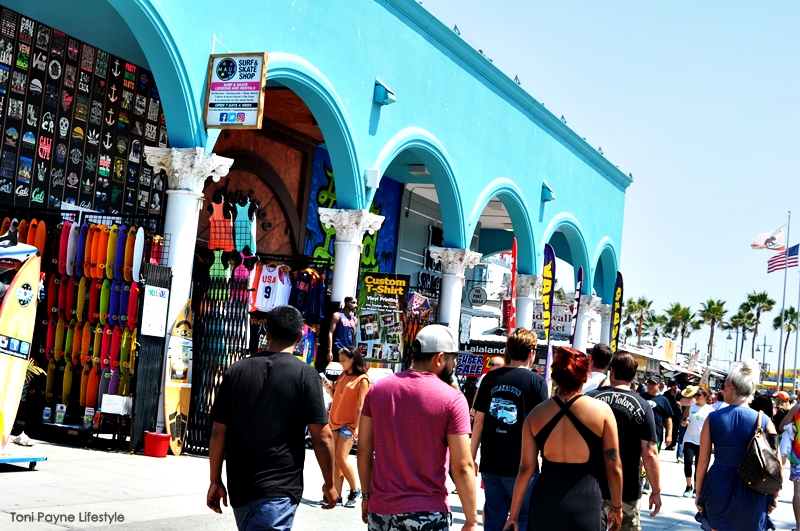 There are several shops on the Venice beach boardwalk that sell tourist items. You can get t-shirts, magnets, skateboard and all sorts. Some shops carry a variety of items while some carry specific items. If you need a souvenir to remind you of your visit, you will find an abundance of it in the boardwalk shops. If shopping is not your thing, there are a nice variety of restaurant on the boardwalk to dine at while people watching. If you have kids, be mindful of some of the t-shirts and shorts on display because some do display foul language.
Sightseeing Murals at Venice Beach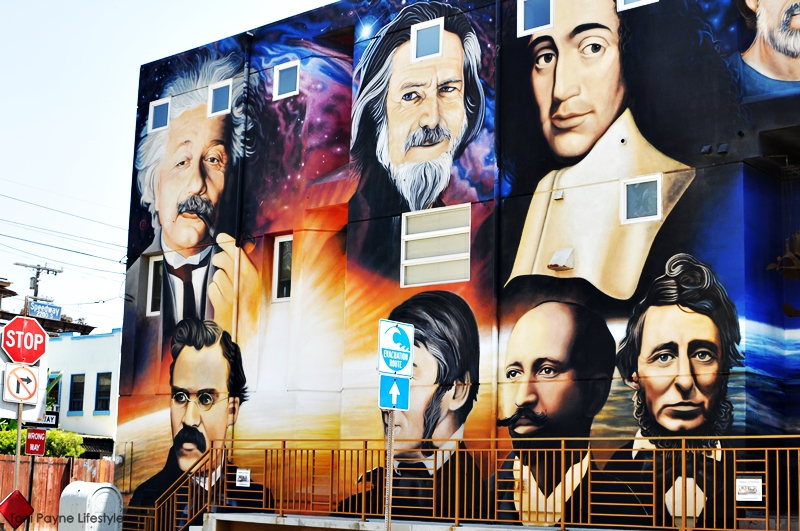 Venice offers a lot of sights to see off the sand. Walking around the neighborhood will expose you to some hidden beauties on Venice beach. One such beauty are the murals around Venice. If you allow yourself a few hours to walk around, you will also spot murals like the "Luminaries of Pantheism", which features several known scientists. It is located at the 2200 block of Speedway. Other murals around Venice beach are "Love the third eye" located on Speedway and Westminster, and the Jim Morrison mural.
As you can see there are lots of things to do in Venice Beach. It is a good idea to plan your day well and start early. On weekends, parking around Venice beach can be a bit tricky because the lots get full by afternoon. It is highly recommended that you arrive before 12 pm to fully enjoy your day.