Celebrity Cars – Justin Bieber in his Chrome Fisker Karma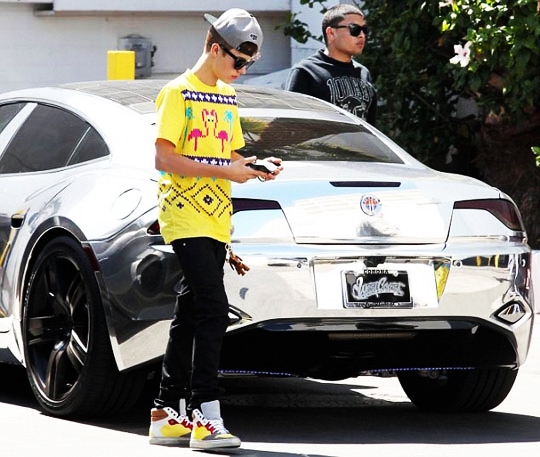 On today's Let's Talk Cars: Celebrities and their cars edition, we will be showcasing Justin Bieber and his chrome Fisker Karma. Justin Bieber is one celebrity that prides himself in owning both luxury cars and Eco friendly cars. Pictured here is Justin standing beside his chrome colored Fisker Karma car which cost between 60 to 100 Grand US dollars.
What is a Fisker Karma you ask? Well, the Fisker Karma is produced by Karma Automotive. They are a luxury car maker who make unique vehicles. Although not a big as brand like Mercedes, the Karma automotive group also prides themselves in quality and uniqueness. We will be talking more about the Karma cars in a separate post soon.
Some other cars the singers inventory include a Range Rover, a Cadillac CTS-V and a super cute #SmartCar. Justin seems to have a thing for black cars because most of his cars, minus the Fisker Karma, are matte black. If you wish to update this information do contact us.