Perils of a Hopeless Romantic – Me and Mr "M"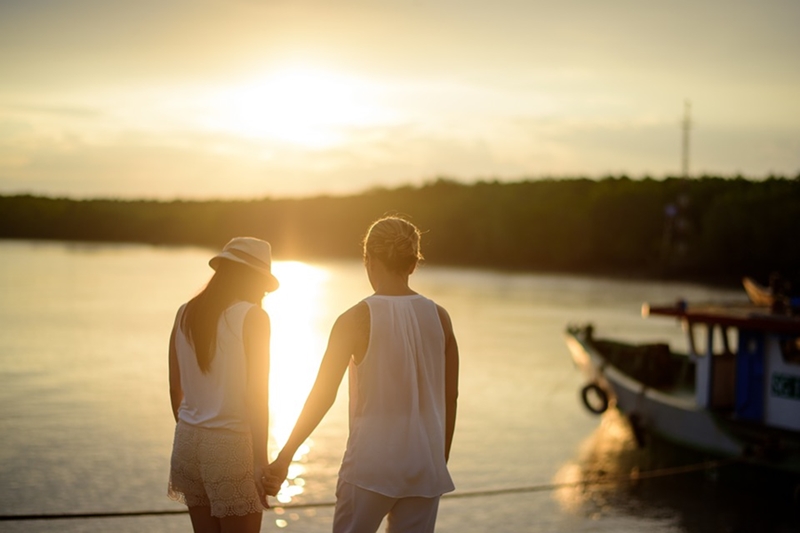 When it comes to romance, do you sometimes feel like you are the last man or woman standing? I do. Sometimes being a hopeless romantic can be hopeless- haha. I realize the older you get, the pickier you become and finding that one person that encompasses your long list can be – well, bleh!  I will attribute this to experience and pretty much having a better idea of what you want and expect in a partner. You obviously get this experience from dating and knowing what type of partner was the best "fit" for you.
We are all different so what we expect in a mate may be different but I think one thing stays consistent and that is a drastic change in our relationship goals as we get older. You can easily go from "carefree love" in your early twenties to "security love" in your late twenties and it sort of just escalates from there. I think I am borderline security, carefree, what I want is what I want and you better love long strolls on the beach and romantic vacations love. – hahaha call me greedy.
The Story of Mr M
When I was in my early twenties I dated a nice young British-Italian guy, lets just call him M!. I think M contributed to setting the bar for what I like or expect in a partner now. M was not perfect but he was extremely romantic. He was very caring, had a lovely fun family and was very accommodating.
Every Friday he would bring me 2 dozen hand-picked red roses. Every weekend we would go on a new romantic adventure from Islands like Catalina to Hidden spots where we got served some of the best Italian food in Los Angeles. M really loved me but I think he would have made a perfect fit for me in my late twenties but alas I met him in my early twenties.
My M experience solidifies the notion of how important it is to meet Mr Right at the right time. If you meet Mr Right at the wrong time, no amount of right or right will make him right. I appreciated M then because he was "fun" but I can appreciate him more now that I am older because now I see how much of a good man he was because I am more knowledgeable about life. I think age is the only thing that could have changed the outcome of Mr M.
Of course we all know we do not always do what we say we will do. After M, I probably deviated a bit from the super romantic Friday flowers type of man. Not that it was a bad thing. I noticed what I did not mind changed as well. I still squint my nose and eyes at that. My idea of romance went from physical (seeing) to verbal (saying). Then, If my partner simply says "I miss you" the amount of butterflies that will do cartwheels in my stomach could make a butterfly habitat jealous. How naive ! – lol
You know that saying, show me, don't tell me. Boy oh boy, whomever came up with that was right on the money. I think when I was in my mid twenties, I made more decisions using my heart than the senate does using a bill. These days, you can tell me all the sweet nothings in the world, if you do not show me, it's "yinmu" for you.
What does Romance mean to you?
So what do I consider romantic you say? The list is quite long so ill give a few, but before I start my list allow me cue "Cater to you" by Destiny Child. to ginger ehem cough cough a bit – lol.  I know my idea of romance includes a lot of sweet nothings. It has to include a lot of memory making, a lot of genuine love and care. For me, action speaks louder than words. Kiss me on my forehead when I least expect it. Hold my hand while we are driving, throw in a shoulder rub when I'm tired, feel free to throw in a warm bath too. Be thoughtful! Homemade notes impress me more than store-bought cards… Can I get an Amen if you can relate. – lol
Everything that is done should be from the deepest part of his heart. Romantic strolls under the moonlight, loads and loads of Red Roses and Tulips. Know my every quirkiness and be creative. Be fun and love to be silly. Romantic vacations are a must. Netflix and chill is an added bonus. Be a good listener and push me to achieve. And if we ever get married, let the ceremony be a celebration of love between two best friends. – I am speaking hypothetically of course.
These are some of the things I consider romantic. I believe in also giving back what you get. 50-50 love. If he treats you like a Queen, make sure you reciprocate by making him your King.
We are all different so I am sure your idea of romance may vary. Some women like credit alerts, some like gifts, some like cuddling and some simply don't. It is pretty much up to you to figure out what you like so you can help your partner discover "you."
The older you get, the more people may try to convince you to settle. Trust me when I say those same people will not be there when you are wishing you did not. You are the only one who knows what you really want – I believe in going for exactly that and being patient enough for that one person that will satisfy you for a lifetime. I also believe before you can let someone love you, you have to know and love yourself ..
As promised in my NEW YEAR POST I will write a lot more about love and romance so expect many more from me. I will be uploading my first podcast of the year this week so feel free to check it out here once it is up.