Let the Headline Scream – Inspirational Spoken Word Poetry by Toni Payne
Inspirational Spoken Word DOWNLOAD  THE AUDIO HERE.
Let the Headline Scream – Inspirational Spoken Word Poetry by Toni Payne
Life so calm, like the wind in the night sky.
I'm steady chilling because life has new meaning.
No worries enough to sharpen,
Then one day it happened.
In a captivating style, meant to demean,
Let the music play, allow the headline scream.
So that it would appeal, let the noise go on,
Doesn't matter if it's a lie,
No one can pass this by.
I thought it was done,
But she had to come,
A simple sit down, opened old wounds.
To look at a face does not access how demanding.
Write about me, let it be the truth,
Let the headlines scream of what I could do,
Allow it reek of what I did say.
The passion must reside with consideration,
Free me from your manipulations.
Let it be justified, I mean the "hateration"
They do not care about the reprimanding,
It's their job, we should be used to it,
The price you pay is filled with disdain.
Memories begin to spill again,
Thought I was past this, that had no gain.
It's been like that.
The headlines that created a problem that never existed,
One too many lies that stayed consistent.
I thought life was predictable,
But now that is debatable.
The questions they ask, ring in my head.
Why didn't she stay, she could have sustained. It's easy to say!
Did she, or didn't she? Could she?
They continue, not minding the gravity of their actions,
After all, it's minor in their life's faction.
You can choose your path in life, but can never predict those you chose to walk with.
Nobody is immune,
It could have been you.
I close this page with a lot to say,
Hold my hand or let me be,
Allow my spirit to be free,
Allow me do the things you say.
So your mouth can have a say.
Beat your chest cos you were right,
But till then, I'll fight this fight.
To them who started and those that continue,
You wish for me to fall, so selfishly,
Who are you to judge, so carelessly,
Running your mouth, incoherently.
I played them white walls,
Within my four walls,
I let the music play,
My destiny, no longer to be delayed.
We love you, let it go!
I think I have, but that is a side apart.
Though I move far I think of the start,
The situations that created this day,
The headlines that brought about the pain,
Because blood runs through my veins.
I choose to be strong,
To rise above the malice,
At last, I'm free,
As you can see.
I have a voice,
You have no choice,
But to listen, so listen attentively,
And to choose decisively,
Where you stand abundantly.
You either live for the truth,
Or continue to walk with lies
Remembering, the end will always justify.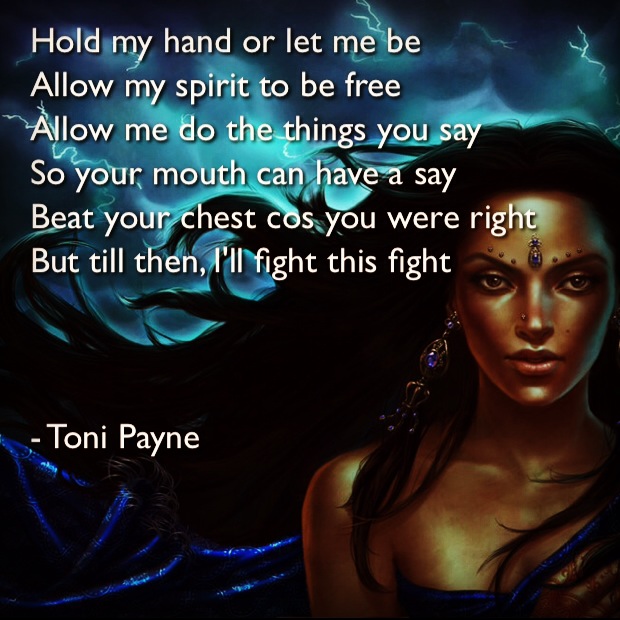 [ originally published April 15, 2013 ]
Podcast: Play in new window | Download | Embed
Subscribe: Apple Podcasts | RSS | More