Love and Hip Hop Atlanta's Stevie J is Messy for Posting Althea's Nudes – UGH!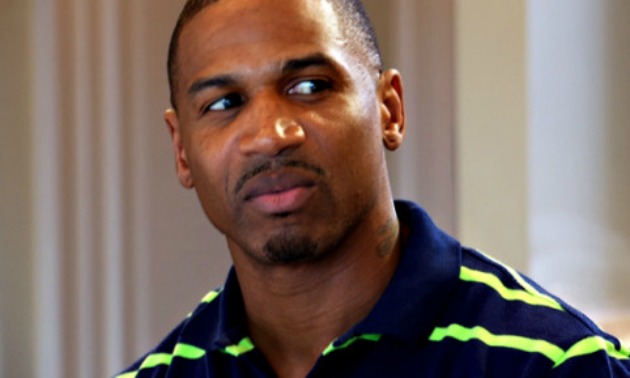 Someone really needs to put a leash on Love and Hip Hop Atlanta cast member Stevie J's behind. Either that, or send him back to school to learn how to act because this grown a$$ man is acting less than his shoe size right about now.  I meant he acts a fool almost all the darn time. Like seriously dude, drink up a tall glass of chill.
The past 24 hrs has seen Stevie J posting illicit pictures of co-star Althea who is also Benzino's fiancee online. What grown man does that? No seriously? This man has kids by the way. What a fantastic example he is to his kids huh? NOT! I still stand by my post here that Love and Hip Hop Atlanta should be cancelled. Majority of them do not know how to behave. They may serve as good entertainment to some because apparently it can be fun watching them go at it but is it really worth it?
The classy ones should branch off to another show because the entire show itself is deemed ratchet because of the bad seeds. These bad seeds spend half the time embarrassing themselves on social media and on the show for the sake of God knows what. Ratings? A paycheck? Its sad that the few who are trying to do good will still be grouped with the ratchet ones like Stevie J who just do not care.That man really needs to get a life.!. Anyways here is how the twitter conversation /situation between him and Althea went down.
"Lettuce anyone?" Stevie J tweeted alongside a picture of Althea giving fellatio to a then unidentified man. Apparently he must have been trying to pass it off like he was the man making her look like he hit it. Even if he did, who the hell cares. You will not be the first man to have sex with a woman so stop acting brand new dude.
Anyhoo.. She responded
Questioning who the manhood belonged to. Weird I know.. Then he responded
No @Althea_Heart my beefcake wouldn't fit on the screen. Few surprises for you tomorrow ma — Stevie J. (@hitmansteviej)
Obviously taking the hint at what he was up to, she quickly responded that it was her and Benzino in the picture.
"That's me and Zino. What you want tickets??" she wrote.
He replied her saying
"No, I already been to the zoo,"
He has since deleted the pictures on his twitter but get this, this evening someone sent even more nudes to blogs. You can see it below.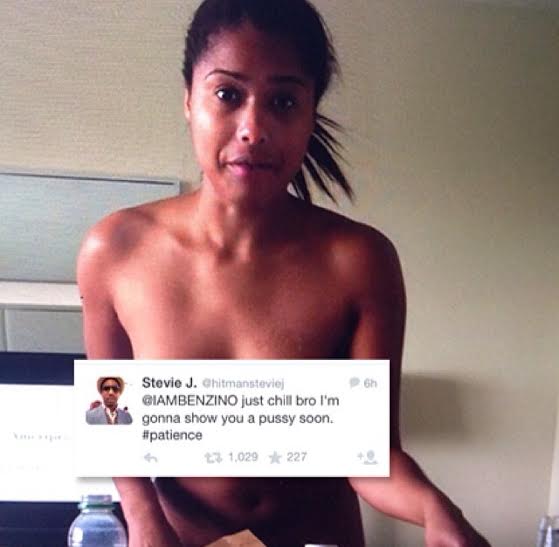 All I gotta say at the point is they all need to grow the hell up. Stevie J especially, first its him fighting his wife and tweeting crap about her to later posting nudes of another mans fiancee on social media. He needs to go focus on paying his child support and stop embarrassing himself on social media.
A word to the ladies out there, stop stop stop this act of taking nudes with men. Relationships do go sour and lord help you the man is the bitter type. Do not risk such, it is just not worth it.
What do you think of Stevie J's behavior?