Lupita Nyong'o is FIERCE in Fashion Spread!. See AMAZING PHOTOS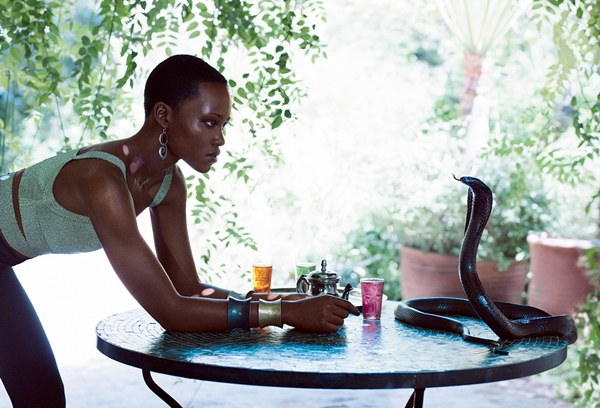 Boy of Boy..I saw Lupita's Vogue Magazine spread and I had to channel my inner Tyra Banks, snap my fingers and blurt out the words "fierce!" The 12-Years-a-Slave actress recently granted insights to Vogue for their 2014 July Edition and of course shot a spread too. Vogue really did her good. I couldn't find a single picture that I did not like. My personal favorite is the one above. It is so rich I want to shout "YAGA" When you see the rest of the pictures, you will understand why designers would want to dress her. I think I am hitting the Gym yet again. lol. You can scroll down to read some excerpts from the interview and of course see more pictures.
PREPARING FOR WHAT WILL FOLLOW 12-YEARS-A-SLAVE

Lupita realized that she needed a more considered approach to her fashion choices as she prepared for the formidable season of appearances for 12 Years a Slave. She had worked with and befriended Michelle Dockery (Downton Abbey's Lady Mary) on Non-Stop (a rollicking suspense vehicle for Liam Neeson that was released two days before the Academy Awards, with Lupita—in what more than one critic described as a meager role—as a flight attendant alongside Dockery). Dockery introduced her to her stylist, Micaela Erlanger, a protégée of the late Annabel Tollman, who helped shape the red-carpet personas of Scarlett Johansson and Mary-Kate and Ashley Olsen, among others.
GROWING UP IN KENYA AND HER LOVE FOR FASHION

Though, as she recalls with a laugh, she lived for three years as a student in pants and a sweatshirt, Lupita has always enjoyed fashion. Growing up in Kenya, she designed many of her own clothes "because it was cheaper than buying retail," including her own prom dress when she graduated from the all-boys high school she attended in Nairobi—girls were accepted only in two advanced-placement classes. "It was a velvet miniskirt with a matching little top and an iridescent silver translucent fabric that flowed to the ground," she remembers. "It was kind of ridiculous, but it was fabulous at the time."
HER RELATIONSHIP WITH MIU MIU

Lupita was cast in Miu Miu's spring campaign alongside Elizabeth Olsen, Elle Fanning, and Bella Heathcote, and attended the label's fashion show in Paris, dressed in a collared burgundy sweater under the sort of stiff little coat that Britain's royal children have traditionally worn—the prim Good Girl foil to her front-row neighbor, Rihanna, who was working an eighties banjee-girl look in a runway-fresh Prada shearling coat, a plunging décolleté, and a Cleopatra bob.
You can read the full article here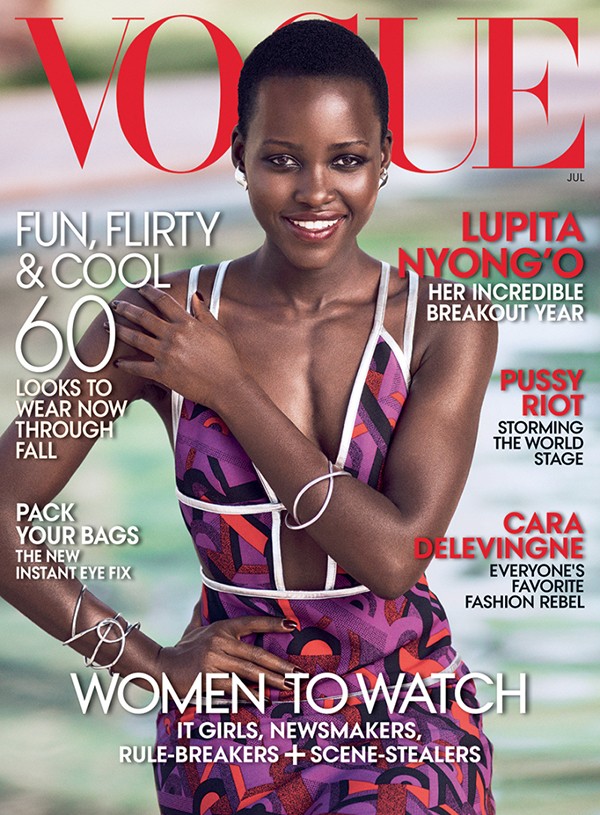 Photo Credit/ VOGUE