10 Worst Red Carpert Fashion We Can't Forget – Beyonce, Lady Gaga, Lupita, make the list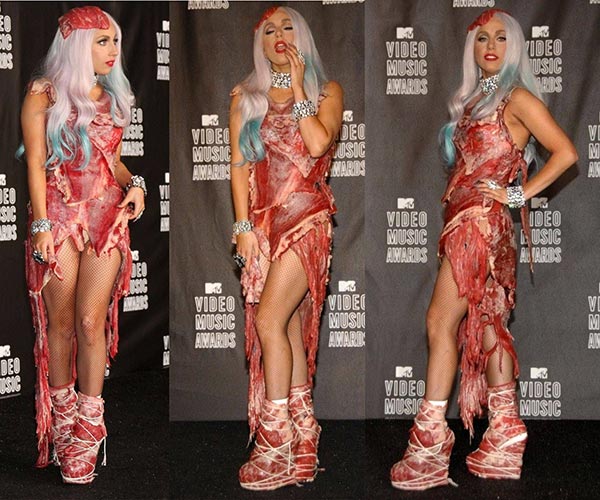 Move over Fashion Police, there is a new sheriff in town. We are about to take a little trip back in time to a place where fashion blunders were made. Walking the red carpet seems an easy enough task right? Not!. The stress of deciding on what to wear and what critics will say afterwards can easily overshadow the reason for attending the event. A lot of people have gotten the Red carpet look down to a science while some others,  well, lets just say, some others have fallen victim to the fashion blunder witch. In this post I will be sharing with you 10 Worst Red Carpert Fashions we can't forget, so sit back, grab your pop corn and read on. 
10. Bjork at the 2001 Academy Awards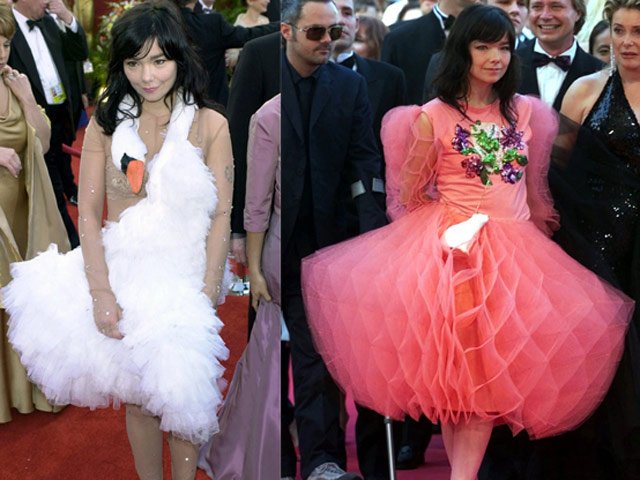 Who remembers this Swan look rocked by Bjork at the 2001 Academy Awards?. When I saw her on the red carpet the first thing that came to my mind was WTF is she wearing. I know some people wish to stand out and make a statement but this right here was the wrong statement to make. Then again, Bjork is infamous for her crazy outfit. Lets not forget her Pink Pepto dress in 2000. Minus 10 points for Bjork
9. Model Mallika Sherawat at a 2009 Movie Premiere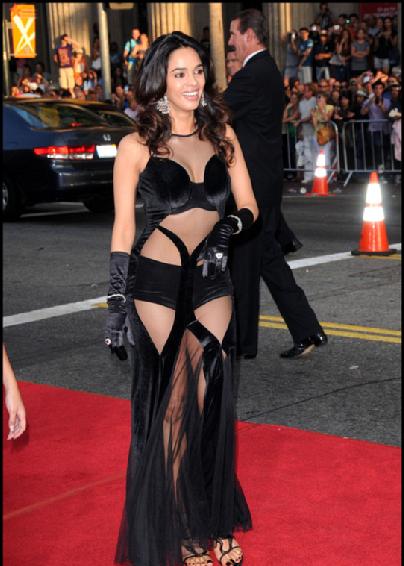 I am pretty sure when Justin Timberlake sang about bringing sexy back, this was not what he meant. This outfit was an absolute disaster. It took a lady who would ordinarily look sexy and made her look frumpy. It doesn't get worse than that. A whooping minus 10 points to Mallika.
8. Nicki Minaj at the 2012 Grammy Awards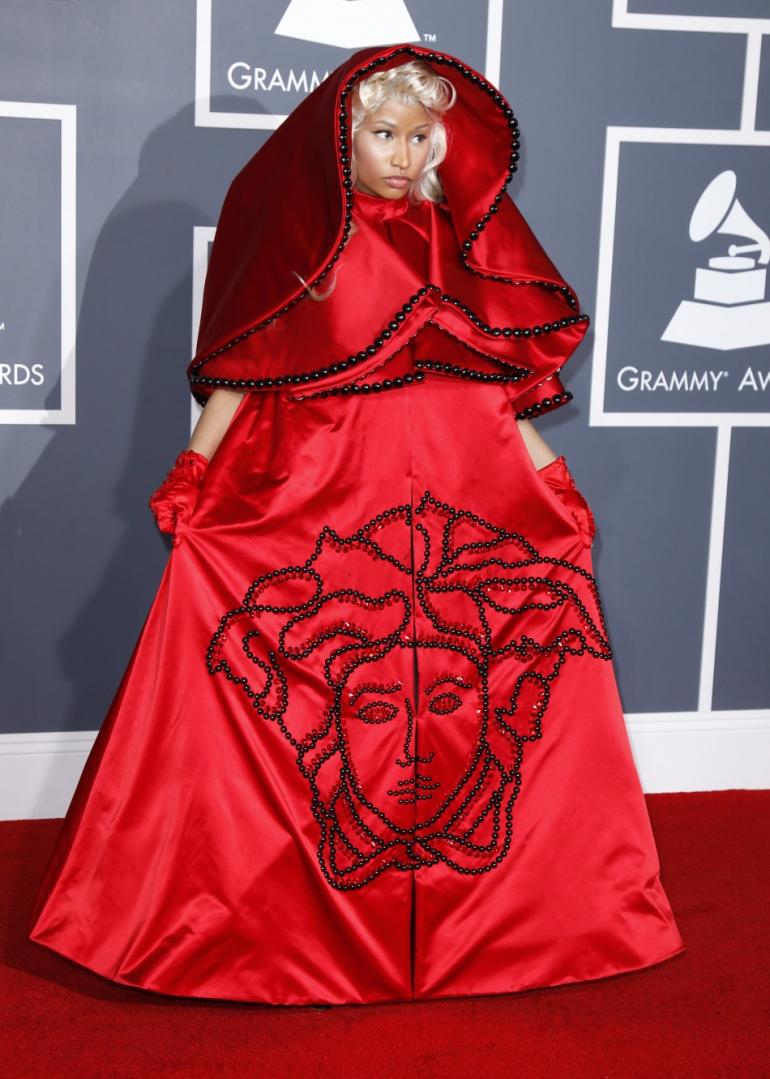 Nicki Minaj may be looking good these days but trust me when I say, she has had her moments. If you go throught her fashion catalog then you will realize that she could have made this list over, and over and over again. Her outfit to the 2012 Grammy Awards was a red disaster. I understand the need to represent your designer but dang gurl, she looked like little red riding hood with too much makeup on. Nicki gets a minus 7 for this fashion faux pas.
7. Destiny's Child at the 2001 Teen Choice Awards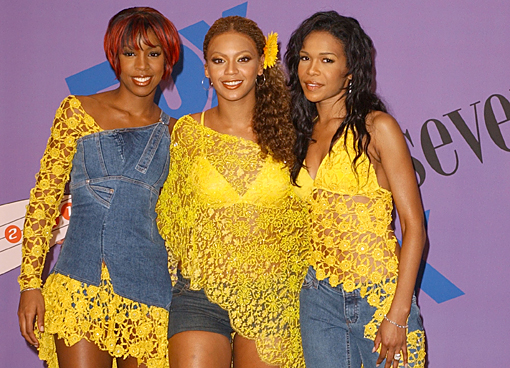 I am sure all three ladies look back now and are like "boy, what were we thinking". The beautiful thing about fashion is that it evolves. What looks cool to you today may look like an absolute disaster tomorrow so for that I will give the ladies a little tap on the hand with a Minus 2 points.
6. Lil Kim at the 1999 MTV Music Video Award


I am not going front. I thought this outfit was the shizznic, the bomb, the thing, but this was before I knew better. Purple hair and pasties are just not cool. To make things worse, what was up with that pastie on the arm and elbow areas? ha-ha. Who would have thought. Lill Kim gets a munus 8 points.
5. Lupita N'yongo's Green and Brown at 2014 Met Ball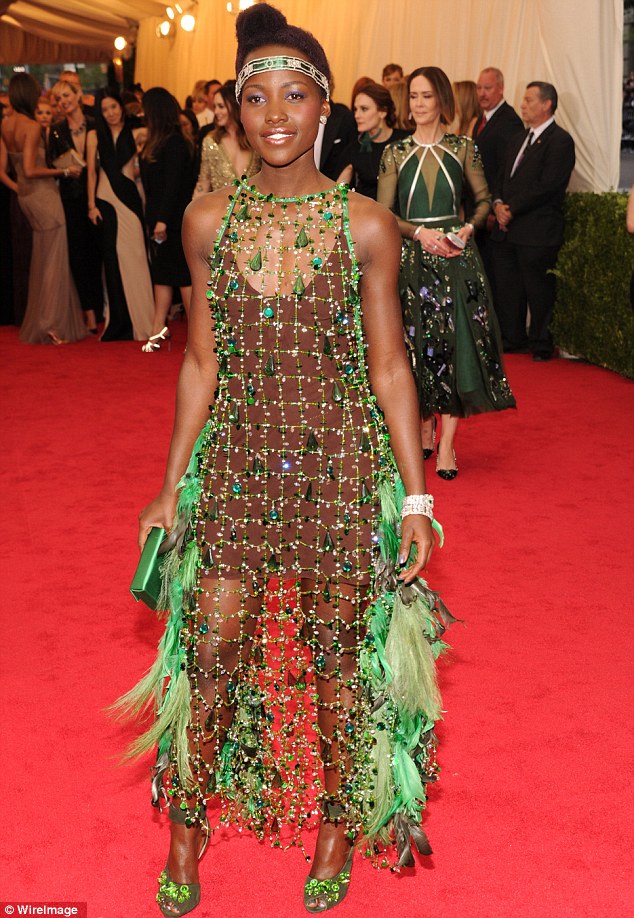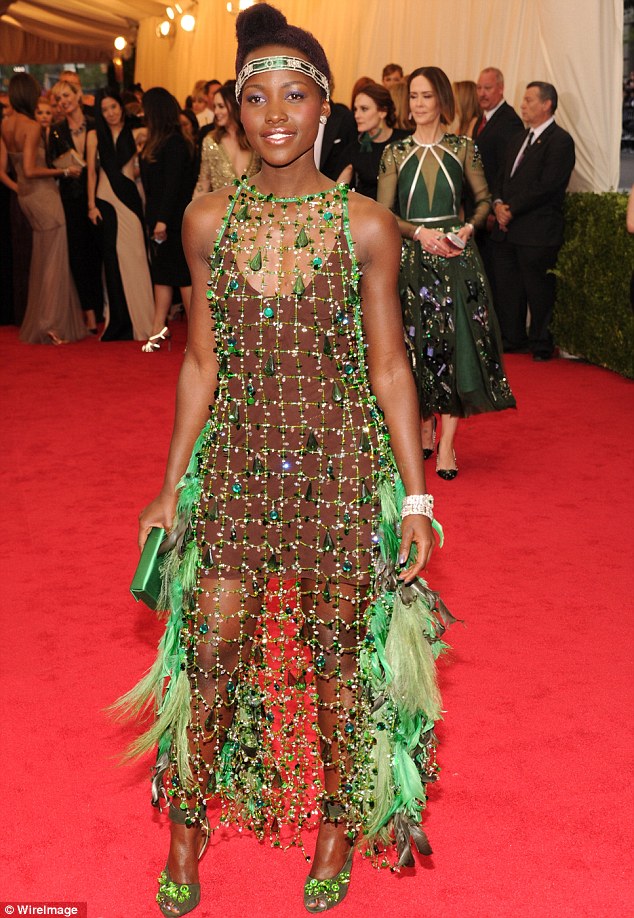 Lupita has been having a fashion winning streak until she rocked this green and brown Prada Nightmare. Not only did the combination not suit her skin tone, she looked incredibly ridiculous in the feathers with matching  shoes. That headband was quite humorous. I still stand my ground that Lupita must have offended someone in her style team and this was their way of punishing her.  Lupita would have gotten a Minus 4 but for that headband, she gets a Minus 7 Points.
4. Kim Kardashian's Sofa Fabric at the 2013 Met Gala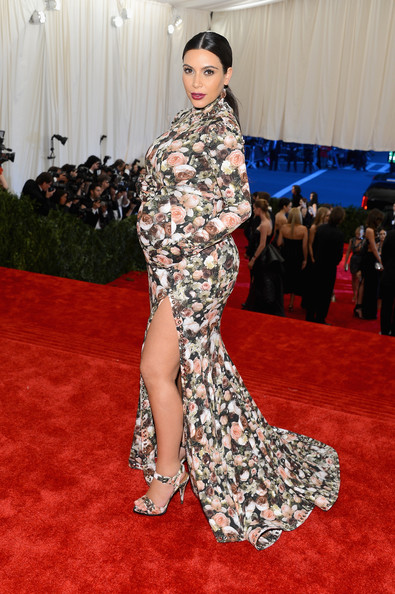 I really wanted to give Kim Kardashian a pass because she was pregnant and finding an outfit in that condition can be hard. Then I remembered that she has access to so many designers who could have whipped up something simple for her. Instead, she decided to attend the 2013 Met Gala looking like Grandma's Old Couch. A very busy floral on a protruding stomach screams "please make me worst dressed."  Minus 7 points for Kim West.
3. Beyonce's Gold and Black at the 2013 Met Gala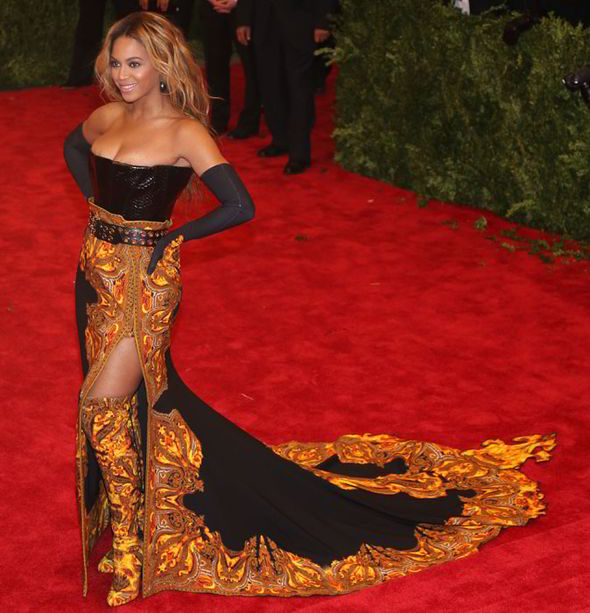 It seems the 2013 Met Gala had a lot of people who would normally dress well, dressing "un-well". It is no wonder they came looking awesome in 2014. Beyonce's look to the 2013 Met Gala would have been ok if she had decided to chuck that belt and those matching shoes in the trash. Like, Beyonce, for real? Knee high boots in the same fabric as your already busy dress? errr Gurrrrrl!. NO! Minus 5 Points for Mrs Carter.
2. Florence Welch at the 2012 Met Gala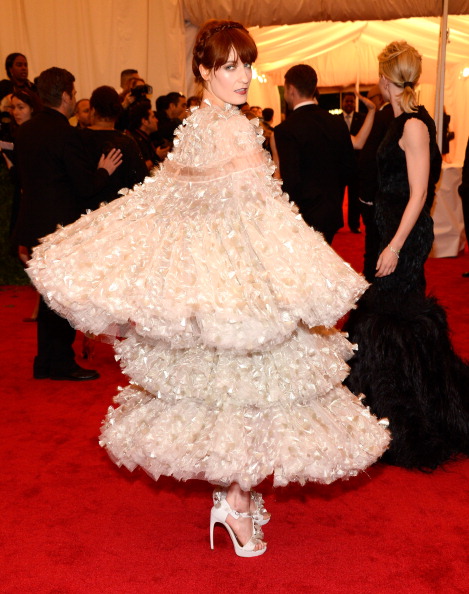 Why did Florence Welch come to the 2012 Met Gala looking like a Chandelier you ask? Well, my guess was she wanted to "light up" the place with her presence. ha-ha. If there was ever a dress that shouted notice me, this dress was IT. She gets a full Minus 10 points for all the distraction.
1. Lady Gaga Meat Dress to the 2010 MTV Video Music Awards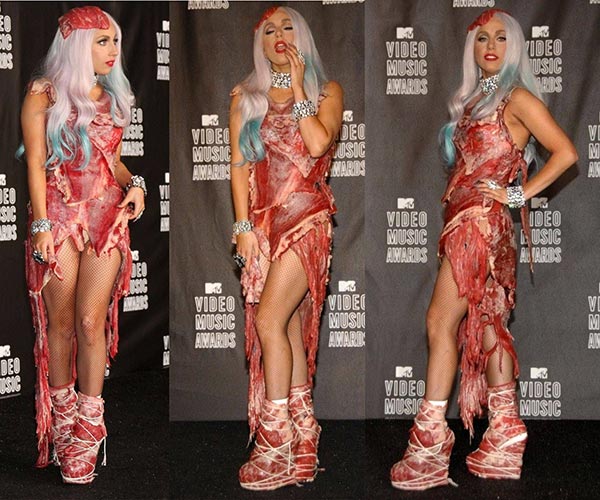 Lady Gaga has been pulling fashion faux pas for publicity reasons since God knows when, but this dress made out of raw meat had to be the worst. Can somebody say ewwwww!. I am sure she smelled awful. Please remind me who got to sit next to her because I know that person would never forget the experience ever. Lady Gaga gets a full blown Minus 10 and then some for this meat disaster.
Bonus: Please Do Not Laugh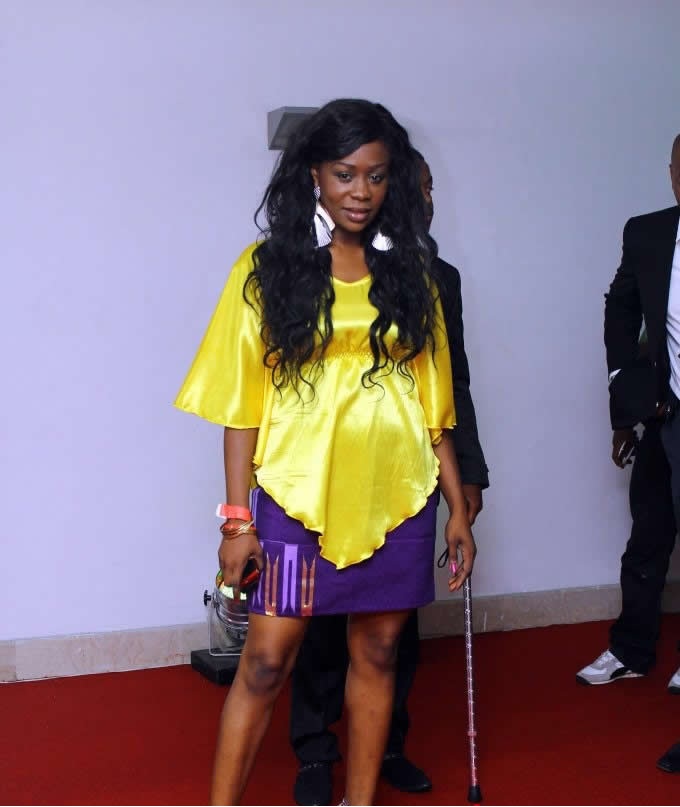 These ladies arent the only ones who have had fashion disasters. Yours truly has walked the red carpet a few times looking like I should have hired a stylist. Check out my awful outfit to the 2012 2face Idibia "Buckwyld and Breathless" Concert. That top though! ha-ha. Actually it wasn't that bad *coughs* if I was just going out to the mall. Oh well, I rocked it and enjoyed rocking it so ha-ha *tongue out*
So who do you think is the worst dressed celebrity of all time?