RHOA Reunion: Why I think Kenya Moore will stay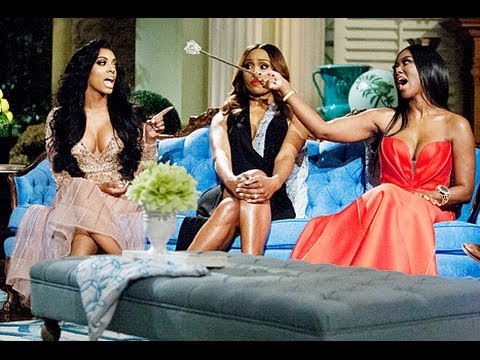 If you listened to the last episode of my Podcast. I wayed in a little about the whole Kenya vs Phaedra Beef.  What I did not see coming was (ok who am I kidding, I heard there was a fight lol) was the Porsha vs Kenya brawl, thats if we can call it that.  It was more like a one woman hair-down. lol. Yes we heard it happened but I did not think it would be that dramatic, and by dramatic I mean Porsha pretty much spazzing out after dragging someone by the hair. Awkward! .
Besides the bullying which I do agree she should stop, I'm team Kenya-Porsha-Phaedra all the way and the reason is simple, I find them interesting. Porsha is just starting to come out of her shell so I don't believe we have actually met Porsha. People love to hate Kenya which makes her even more interesting for me and Phaedra simply cracks me up.
Now, I argued that, yes Kenya does talk crap, but so do the other women. They talk crap back and forth to each other all the time so they shouldn't act all innocent at all. Whats good for one housewife is good for another. They all should stop it. I watched the reunion and every time Kenya tried to make a point, someone would call her a ho or something else and I am sure if Porsha had let her speak, she wouldn't have needed the bullhorn. Porsha called Kenya a rotten vagina or something like that and Kenya took it sitting down. Porsha should have done the same. Not blaming Porsha for defending herself but she shouldn't have put hands on Kenya. She gave Kenya exactly what she wanted and made her look like someone that cant control her emotions hence having no business on such a show.
If Porsha is getting upset about Kenya, I wonder how much of a fissy fit she has if she stumbles on internet comments about her. I'm all for peace and I think Kenya should stay, Porsha should stay, they should become besties (yes this is very possible), and Nene should get off her high horse or leave. If she is too good for the show, she should spare us the I'm better than all the other girls attitude and go and please bring Marlo in to replace her.